The Final Countdown
(1980)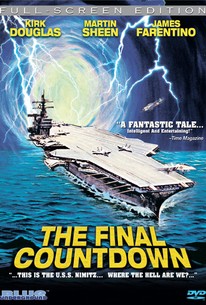 The Final Countdown Photos
Movie Info
The USS Nimitz, a modern-day nuclear-powered aircraft carrier captained by Kirk Douglas, passes through a time warp and finds itself at Pearl Harbor on December 6, 1941. Douglas is all for preventing the infamous Japanese attack by unleashing the 1980s technology at his disposal. But wait--if history is inviolate, what will happen to future events if the attack doesn't come off? For nearly two hours, pros and cons are volleyed back and forth by Douglas, by ambitious senator Charles Durning, and by concerned observer Martin Sheen.
Critic Reviews for The Final Countdown
Audience Reviews for The Final Countdown
I remember seeing this film as a kid and thinking it was one of the most exciting ever. Some parts still hold up really well. The flight scenes are great and you can tell they filmed as much on a real aircraft carrier as possible, things look and feel authentic. It's also one of the first films that dealt with the dilemmas of time travel and changing history. It does not delve in those questions deeply enough and the ending is not as thrilling as I remember it, but it's still pretty entertaining and well done. Fun fact: The movie is now as old as Pearl Harbor was when the film came out.
½
A movie that bears a similar resemblance to the legend of the USS Eldridge and the Philadelphia Experiment flick of 1984, in some aspects. That movie saw an experiment on board the US warship to try and make it invisible to radar. Of course it goes wrong and two crew members are sent into the future of 1984. In this time travel adventure the USS Nimitz is on training operations in the Pacific when a mysterious storm comes out of nowhere and sends the ship back to 1941. The casting is impressive with this old sci-fi, Martin Sheen is a civilian observer, a systems analyst who is on board for reasons unknown frankly. Charles Durning plays a fictitious senator back in 1941 and the epic Kirk Douglas is the USS Nimitz Commander. All three of these actors add much needed impetus to the project as lets be honest...this is total B-movie fluff. Although I still can't for the life of me work out why Sheen's character is required, and here lies one of the plot issues. In this movie the USS Nimitz was designed by an aged Mr. Tideman who we don't see. Now this chap has made sure that Sheen's character gets on board the Nimitz for its training run. The reason being because what happens on board the ship and in the past (when the ship gets there) will effect the future. You assume Sheen's character will obviously somehow effect someone or something that will cause a time ripple, but he doesn't as far as I could see. Sheen doesn't really do anything throughout the whole movie accept stand around and offer the odd bit of advice. The only thing I can think of is the fact that the Nimitz was delayed by two days waiting for Sheen's character to arrive and board (according to Douglas' character the Commander), by order of the mysterious Mr. Tideman. So maybe that delay was required so all the following events would be set in motion at the right time. Naturally time travel paradoxes may arise in a story like this and I'm pretty sure the main twist in the tale here doesn't work. Basically it turns out one of the officers on board the Nimitz is a younger Mr. Tideman who gets stranded back in 1941. Tideman helped design the Nimitz because he served on board her as an officer up until the point he gets stuck back in time. So it was the older Tideman back in 1980 who wanted Sheen's character to travel on the Nimitz for her training ops...although I don't get why as I already said Sheen does nothing. So here is my issue. Young Tideman goes back in time and gets stranded (in 1941), he then must pretty much relive his life through to the present of 1980. Thing is in the present of 1980 with Tideman now an old man, at some point many years earlier, another younger version of Tideman must be born so he can join the Navy, join the Nimitz and eventually go on the training ops mission back in time. So this would surely mean there would be two versions of Tideman living in the same time, is that possible? I'm sure the older version would know not to try and meet his younger self so maybe it would be OK? There is much that isn't really explained in the movie, whether that's because its left up to your own imagination or not I don't know. The mysterious storm is never explained, the fact it seems to be aware at one point because it tracks or homes in on the Nimitz when they try to outmaneuver it. The whole event is simply written off as a mystery or freak of nature. Also I noticed that when the Nimitz goes through the time portal, even jets that aren't on board her go through too. At the end there is an entire strike force of jets up in the air and nowhere near the Nimitz when the storm time portal thing catches the ship and they go back through to 1980. So even if these jets aren't on the ship and not even close to either the ship or the portal...they still go through? Is that because the ship goes through and they just materialise along with it? maybe they are foreign objects in time and time knows they don't belong there? Admittedly most of the run time is taken up by military prowess and military hardware porn, put it this way if you like big guns, jets, aircraft carriers, warships, old planes, helicopters, flybys etc...you're gonna have a field day. Its basically a US Navy recruitment campaign combined with a training video showing you all the cool fun stuff, life on a carrier and errr...all the cool fun stuff. You could also say it was a long homage and love letter to one of the USA's best supercarriers, one of the biggest warships around. A day in the life of the Navy at sea and how it runs. I can't deny it all looked very impressive though, very slick, very cool, it gives 'Top Gun' a good run for its money...and this was 1979! imagine what they're like today. Anyway back to the movie, it was fun, an enjoyable little Twilight Zone-esque escapade which I find agreeable on most days. I knew there would be problems along the way with this, you can kinda tell, but it doesn't detract from the fun too much. Very well put together, nice effects for the time, cool aerial camera work on various military toys and it keeps you thinking.
Phil Hubbs
Super Reviewer
The Final Countdown is a unique and original film that delivers terrific thrills. With a fine cast of talented actors, director Don Taylor crafts this Action Sci Fi film that tells the story of the USS Nimitz send back through time on December 6, 1941, one day before the attack on Pearl Harbor by the Japanese. The plot is wonderful, and director Don Taylor crafts a film that definitely is entertaining from start to finish. Sure the film's premise is absurd, and not believable, but that's what makes this such a thrilling film. This is a must see for Sci Fi fans who enjoy a different type of film. The strength of the film lies with its cast and effective directing. Director Don Taylor presents us with a wonderful film that has some terrific visuals. There are plenty of things going for this film to make it worth seeing and the film ends up being so much fun that you just don't care how ridiculous the premise is. This is a popcorn flick pure and simple. This meant for mindless entertainment, and it most certainly does that. If you want a really amusing, then check this one out. The film may have its flaws, but it certainly is a terrific film that is not meant to be taken seriously. With a great cast that delivers on-screen, The Final Countdown is a near flawless fun film that delivers a good plot with fine acting and it overcomes its flaws by being something original. Go into this film with an open mind, you're sure to enjoy, just don't expect a masterpiece. In terms of popcorn films, The Final Countdown is one of the best.
The Final Countdown Quotes
There are no approved quotes yet for this movie.