Filth and Wisdom
(2008)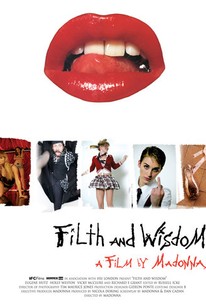 Movie Info
After more than two decades as one of the world's most recognizable stars, Madonna steps behind the camera for the first time with this comedy drama about a handful of bohemians struggling to make a name for themselves in London, which she both wrote and directed. A.K. (Eugene Hutz) is a Ukrainian émigré and struggling musician who fronts a band blending gypsy music with punk rock. Still coming to terms with a childhood pock-marked by abuse, A.K. believes that one has to confront the seamy side of life to find enlightenment, and with this in mind he supports himself by torturing masochists for money while dressed in military gear. Living in the same decaying apartment block as A.K. is Holly (Holly Weston), a gifted dancer who dreams of becoming a ballet star, though now she's forced to degrade herself as a stripper at a "gentleman's nightclub." A.K. is enamored of Holly, but can't work up the nerve to make a move. Elsewhere in the building, Juliette (Vicky McClure) wants to help children in the Third World, but is biding her time working at a pharmacy, where she swipes medicine for charity when she isn't pocketing recreational material for herself, and Professor Flynn (Richard E. Grant) is a blind poet who is surrounded by a personal library of books he can no longer read. Filth and Wisdom also features several performances by Gogol Bordello, the band Eugene Hutz leads in real life; the film received its world premiere at the 2008 Berlin Film Festival.
Critic Reviews for Filth and Wisdom
Audience Reviews for Filth and Wisdom
½
Is Madonna's "Filth and Wisdom" as bad as you've heard? Well, I have to say yes. When the film came out, it was savaged by critics and pulled from circulation in just a few days. I suspected the critics were being overly negative, as they are wont to do when a woman artist takes risks. But in this case the extreme pans were deserved. "Filth and Wisdom" is almost as bad as Joaquin Phoenix's spectacularly stupid and self-indulgent "I'm Still Here" (2010). The only redeeming value is that the bits with Eugene Hutz, lead singer of the band Gogol Bordello, do occasionally become interesting. I suspect that Hutz could turn into something of a darling of underground cinema. He would just require a director and writer who's got more going on upstairs than Madonna. I yield to no one in my appreciation for Madonna, but it can't be denied: she's no thinker. And she's not much of a natural behind the camera either. Most of the scenes in "Filth and Wisdom" looked to me like they were directed by an eight-year-old, and not a particularly smart or interesting one.
William Dunmyer
Super Reviewer
I don't see what the point of this was. I love Madonna, but obviously more so in front of the camera than behind.
Sarah Prisbylla
Super Reviewer
Filth and Wisdom Quotes
There are no approved quotes yet for this movie.