Fierce People
(2005)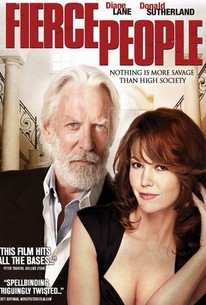 TOMATOMETER
AUDIENCE SCORE
Critic Consensus: Fierce People's premise of a teenager studying rich people like animals is grating and self-satisfied, and Anton Yelchin's smug performance makes the film even harder to agree with.
Movie Info
Trapped in his mother's Lower East Side apartment, 16-year-old Finn wants nothing more than to escape New York and spend the summer in South America studying the Iskanani Indians, or "Fierce People," with the anthropologist father he's never met. But Finn's dreams are shattered when he is arrested in a desperate effort to help his drug-dependent mother, Liz, who scrapes by working as a masseuse. Determined to get their lives back on track, Liz moves the two of them into a guesthouse on the vast country estate of her ex-client, the aging aristocratic billionaire, Ogden C. Osbourne. In Osbourne's close world of privilege and power, Finn and Liz encounter a tribe fiercer and more mysterious than anything they might find in the South American jungle: the super rich. While Liz battles her substance abuse and struggles to win back her son's love and trust, Finn falls in love with Osbourne's beautiful granddaughter, Maya, befriends her charismatic older brother, Bryce, and even wins the favor of Osbourne himself. But when a shocking act of violence shatters Finn's ascension within the Osbourne clan, the golden promises of this lush world quickly sour. And, both Finn and Liz, caught in a harrowing struggle for their dignity, discover that membership always comes at a price.
Critic Reviews for Fierce People
Audience Reviews for Fierce People
I purchased this from Amazon for something ridiculous like $3 as part of a buy one get other two cheap deal. It wasn't a movie I had heard of or expected much from, but I figured it was pretty cheap and had a younger Kristen Stewart in it, so I would give it the benefit of the doubt and just sell it on if i wasn't impressed. (And I expected not to be). What a pleasant surprise! This was a really quirky little low budget film - highly original and dealt with a topic I have never seen dealt with in a movie before (I won't say what and spoil it). You see this particular situation in movies with girls all the time, but not boys. It was very well done. This was really a unique film in that it is funny and serious and sad and surreal all at the same time. I have never seen anything else like it. Anton Yelchin is very good here, as is Kristin in a smaller role. Definitely one to check out if you like unusual films!
Nicki Marie
Super Reviewer
Intensely stupid movie that I caught on Sundance (they constantly make me question why I still keep them on my cable package, but then they show a Cassavettes marathon and I renew them). I can't believe that talented actors like Diane Lane and Donald Sutherland read this script and think it can work (I was wondering if they owed Griffin Dunne something or just thought he was a nice guy). The movie starts out OK (exposition in dialogue is becoming a curse in film today), but then in the middle becomes a mind fuck of a movie with absolutely retarded twists (some of which you see coming a mile away). I am just glad I fell asleep towards the end and awoke to know exactly how this thing would end. Waste of talent all the way around. This is why people should stop smoking weed when they think it's making them a better writer.
Subject matter turned very heavy about halfway into the film, but ends very nicely. I liked it...
Leigh Ryan
Super Reviewer
Fierce People Quotes
There are no approved quotes yet for this movie.