A Few Good Men
(1992)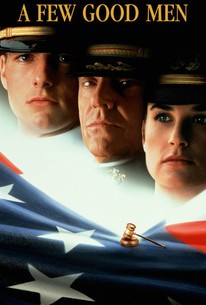 TOMATOMETER
AUDIENCE SCORE
Critic Consensus: An old-fashioned courtroom drama with a contemporary edge, A Few Good Men succeeds on the strength of its stars, with Tom Cruise, Demi Moore, and especially Jack Nicholson delivering powerful performances that more than compensate for the predictable plot.
Movie Info
A fast-talking, charming Navy defense attorney must prove that a pair of Marines are innocent of murdering a fellow fighter in this taut and provocative courtroom thriller. The lawyer's biggest obstacle is a conniving base commander who wants the whole affair swept under the carpet.
News & Interviews for A Few Good Men
Critic Reviews for A Few Good Men
Audience Reviews for A Few Good Men
As seen in "The Newsroom" and "The Social Network," Aaron Sorkin obviously writes some great dialogue and speeches, and Kaffee and Jessup's courtroom confrontation is indeed full of vitriol and grand idealistic views on patriotism, security, and truth. However, what bumps me about this movie and the rest of Sorkin's work is that it's too pat. A callow, legacy, navy lawyer has to defend two Marines accused of hazing a private so extremely that they kill him. Along the way, we tackle issues of whether honor means following a code of ethics or critically thinking for oneself. Will the good guys win? What does it mean to be a good guy? These are important, heady questions drummed up by Sorkin, but I think he spent more time writing slick lawyer-speak instead of developing a key part of the story: who is Santiago and why should we care about him, the circumstances in which he was killed, and the fate of his killers? Why did he even join the Marines to begin with? Where was he trying to get transferred to? Why did he break the chain of command? Why would he offer secrets for personal favors? Why was he, in short, such a bad Marine? Even if he had health conditions, he should've at least been able to keep his barracks orderly and be punctual. His death seemed so clearly an accident that I wondered why all this hullabaloo. I kept thinking there had to be more to Santiago, not just his death.
Alice Shen
Super Reviewer
One of the greatest courtroom dramas out there unites a fantastic cast, an engaging case and excellent writing. Young Tom Cruise was still on the rise as a leading man here, but Nicholson is at his best, throwing out great lines by the dozen and making movie history with his final burst of anger. The way there is so smartly written and directed, it's a pleasure to behold, even if the militaristic procedures and saluting puts you off. But the battles of words and wits are exciting as Western shoot-outs. Great stuff.
What a cast! Two U.S. Marines, are on trial for the murder of William Santiago, a fellow private in their unit. Were the men acting under orders or was it a pre-meditated decision of their own? Aaron Sorkin adapts his own 1989 Broadway play. His script crackles with intelligence as it entertains simply with words that fly fast and furious. Nowhere is this more true than in the courtroom arena. Jack Nicholson's famous line in the climatic scene is pretty much the stuff of movie legend. He got the showiest role and the Academy Award nomination. He's genuinely excellent as the proud and supercilious Colonel Nathan Jessup. But the rest of the company matches his talent. Tom Cruise and Demi Moore exhibit a witty repartee as the defense, Kevin Pollack rounds out their team with sagacious support, Kevin Bacon exudes confidence as the prosecutor and Kiefer Sutherland is all seething hostile aggression as Lieutenant Kendrick, Jessup's right hand man. Everyone is in fine form. Sorkin's writing is brilliant. A literate examination of the Marine Corps and their code of honor is at the heart of this expose. The actors give his language the dramatic weight that elevate this production into a document of military life that feels essential. 12 Angry Men, To Kill a Mockingbird, A Few Good Men. These are the reasons I love courtroom dramas. fastfilmreviews.wordpress.com
Mark Hobin
Super Reviewer
A Few Good Men Quotes
There are no approved quotes yet for this movie.