FernGully - The Last Rainforest
(1992)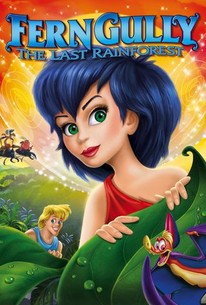 FernGully - The Last Rainforest Photos
Movie Info
A man finds himself living among the animals and enchanted spirits of the rainforest, and learns of the true consequences of human destruction in this animated adventure. Crysta (voice of Samantha Mathis) is a young fairy who is being tutored in the powers of magic by the older and wiser Magi (voice of Grace Zabriskie) in an Amazon rain forest. While their home was once on the verge of destruction thanks to the evil spirit Hexxus (voice of Tim Curry), the demon has been trapped inside a tree, and Crysta is free to play with her friends Batty Koda (voice of Robin Williams), a bat who escaped from an animal testing facility, and Pips (voice of Christian Slater), who has obvious romantic intentions toward the attractive young sprite. However, a clear-cutting crew destroys the tranquil peace of the rainforest, and when Crysta sees a runaway logging machine about to run over lumberjack Zak (voice of Jonathan Ward), she saves his life by shrinking him to her own size. However, Crysta isn't able to bring Zak back to his normal size, so he's forced to live among the forest creatures and learn first-hand the devastation the humans have brought to this world -- especially when the loggers accidentally free Hexxus from captivity. ~ Mark Deming, Rovi
Critic Reviews for FernGully - The Last Rainforest
Audience Reviews for FernGully - The Last Rainforest
½
Not just a cartoon but one with a message: it's all in the title. In the world of CGI the old school hand-drawn looks old some, but it's for the kids and so ... they might appreciate it's magic.
Kevin M. Williams
Super Reviewer
This was one of my favourite movies as a kid, and I think kids today should see it too. It has a wonderful lesson about pollution and the destruction of rainforests, but it's also exciting, creepy, funny, and entertaining. There are some great songs too. Plus, it's about fairies, and a human who gets shrunk down to their size, the classic take a walk in someone else's shoes story. I love this movie.
½
Tim curry did a fantastic job along with robin willaims in this movie and its fairly decent but only kids will like it
Michael Edwards
Super Reviewer
FernGully - The Last Rainforest Quotes
There are no approved quotes yet for this movie.