Ferlinghetti: A City Light
(2008)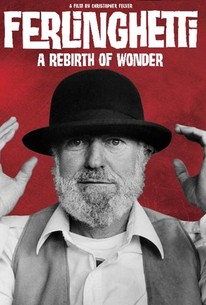 AUDIENCE SCORE
Critic Consensus: No consensus yet.
Ferlinghetti: A City Light Photos
Movie Info
Ferlinghetti explores the world of San Francisco(TM)s legendary poet, artist, publisher and civil libertarian. The film presents poetry in the context of the living presence of Ferlinghetti as he reads many of his significant poems, discusses his political and social activism and gives viewers an insight into his public and private life as it unfolds over nine remarkable decades. His ideology coalesced soon after visiting the ruins of Nagasaki, just weeks after the devastation of the atomic bomb in 1945; the event which made him an instant pacifist. After he moved to San Francisco and participated in Kenneth Rexroth(TM)s Scott Street Salons, Ferlinghetti(TM)s pacifism and skepticism of the power of state materialized into his unique brand of political activism. Rooted in anarchist thought and civil libertarianism, the political principals communicated in his poems are cited as one of the primary catalysts of the Velvet Revolution in Czeckeslovakia. The excitement of the Beat Generation(TM)s rebellion against the social conservatism of the 1950(TM)s is highlighted by the famous Beat public poetry reading gs that jump-started social awareness and impacted the tone and character of American culture. The momentum fomented by Ferlinghetti(TM)s 1956 Howl censorship trial against the City of San Francisco is still the foundation for successive generations of musicians, poets, authors, and filmmakers first amendment activism: the freedom of speech. Ferlinghetti(TM)s book, A Coney Island of the Mind, is the all-time bestselling book of poetry, And His presence at City Lights Books has championed the pens of countless writers while continuing to turn successive generations of readers onto poetry. The film features archival photographs and historical footage with appearances by Allen Ginsberg, Michael McClure, Billy Collins, Dennis Hopper, Robert Scheer, Dave Eggers, and Pulitzer Prize winner Gary Snyder and other movers and shakers from the literary, political and art community. -- (C) Roxie Theatre
Critic Reviews for Ferlinghetti: A City Light
All Critics (3) | Top Critics (1) | Fresh (2) | Rotten (1)
The pic's uninspired craftsmanship appreciates without quite capturing his anarchistic humanist spirit.
May 8, 2009
More reverent than curious. Still, the movie does make you want to read more poetry.
Truly, the authenticity of this doc, by photographer and filmmaker Christopher Felver, sweeps you off your feet.
Audience Reviews
There are no featured reviews for Ferlinghetti: A City Light at this time.
Ferlinghetti: A City Light Quotes
There are no approved quotes yet for this movie.