Female Trouble
(1974)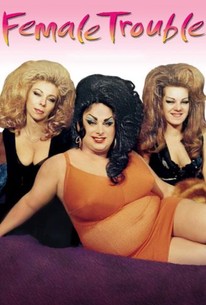 Movie Info
A riotously funny bad-taste epic from director John Waters, Baltimore's "Prince of Puke," this sick classic tells the depraved life story of obese criminal Dawn Davenport (Divine), from her bad-girl youth as a go-go dancer on Baltimore's infamous Block to her death in the electric chair. Mink Stole is terrific as Dawn's bratty daughter Taffy, conceived following a romp on a junkyard mattress with a fat derelict in soiled underpants (also played by Divine). Mary Vivian Pearce and David Lochary co-star as crazed owners of a beauty-parlor who are convinced that "crime equals beauty," and they take Dawn under their wings, forcing her to mainline liquid eyeliner to enhance her appeal. Edith Massey steals the film as Dawn's obsessive neighbor, Ida, who wants her nephew to be gay (because heterosexuals lead "sick and boring lives") and throws acid in Dawn's face when she marries him. A hilariously appalling film, Female Trouble is just as disgusting and far funnier than Waters' previous Pink Flamingos, if not as notorious.
News & Interviews for Female Trouble
Critic Reviews for Female Trouble
Audience Reviews for Female Trouble
While this revolting film is daring, funny and provocative for quite some time, soon it becomes insufferable with a bunch of people shrieking around without end and yelling at each other for much longer than our patience can take (hell, of course, this is John Waters).
Carlos Magalhães
Super Reviewer
The criminal career of Dawn Davenport is documented in an attempt to prove the thesis "crime equals beauty," in typically gross Waters fashion featuring psuedo-rape, tacky wallpaper, child abuse, absurd makeup, a woman imprisoned in a bird cage, beehive hairdos, mainlining eyeliner, Divine as a go-go dancer, implied paedophilia, puke, murder, and Edith Massey's saggy naked breasts. Badly acted, edited and photographed--by design. Waters holds up a distorted lens to the unique stylistic and moral ugliness of the 1970s and creates a uniquely nightmarish world. Similar, but more focused, less gimmicky and funnier than the more famous PINK FLAMINGOS. Unflinchingly ugly and almost impossible to like, but worth seeing for adventurous cinemaphiles simply beacuse Waters' vision is utterly unique.
God bless John Waters. He's made some of the best, crudest feel-good movies, and this is one of his crowning achievements. It's amazing how his film, ugly-looking and full of lipstick-smeared freaks, can feel positive and upbeat; while he's mocking everything in sight, he doesn't stand back and protect himself with irony or winks -- he jumps right in there, and that involvement, that energy, is easy to see and feel. It's amazing that he can feature masturbation with needle-nose pliers, beating a child with a chair, a game of "car accident," and Divine literally screwing himself and not have it be off-putting. The very idea that Waters uses a fat transvestite with a beehive hairdo to illustrate his scorn for school shows he's not so interested in subtlety. And Divine is awesome, as always, his prissy, gravely scream -- a freak you want on your side. This is one of Waters' best satirical attempts -- there are digs at hippies and Hare Krishnas, and two scenes in particular are very prophetic: the gay encouraging, and the killing for art. Waters even mocks his own shameless exhibitionism in the testimony of the Dashers
Cassandra Maples
Super Reviewer
Female Trouble Quotes
There are no approved quotes yet for this movie.