Feeling Minnesota
(1996)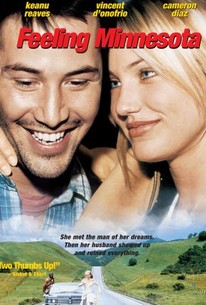 TOMATOMETER
AUDIENCE SCORE
Critic Consensus: Clumsily derivative, shoddily assembled, and fundamentally miscast, Feeling Minnesota sets out for romantic comedy and gets irrevocably lost along the way.
Movie Info
It's not unusual in the movies for a woman to be torn between two brothers, but she usually doesn't change her mind on her wedding day. Then again, hardly anything goes the way one might expect in this black comedy. Freddie (Cameron Diaz), a pretty but hard-as-nails stripper, dreams of some day dancing in a Las Vegas revue, but for the meantime she works at a seedy dive in Minnesota. Freddie is forced by the owner of the club, Red (Delroy Lindo), to marry his accountant, the less-than-charming Sam Clayton (Vincent D'Onofrio), as punishment for supposedly stealing from the strip joint's till (as a further indignity, Red has also had the word "slut" tattooed on her arm). Sam has a rocky relationship with his brother Jjaks (Keanu Reeves) -- his curious name is the result of a typing error on his birth certificate -- but Jjaks receives an invitation to the nuptials from their mother Nora (Tuesday Weld), and he arrives at the wedding reception only a few hours after he's released from prison. When Freddie and Jjacks meet for the first time, there's an immediate chemistry between them, so immediate that before the evening is out, the new in-laws are making love in a bathroom and Freddie has persuaded Jjacks to run away with her; Freddie has also grabbed Sam's bankroll to finance the unscheduled vacation. Sam, understandably enraged, vows to track them down and enlists the help of Ben Costikyan (Dan Aykroyd), a sleazy career criminal. Feeling Minnesota was the debut feature for writer and director Steven Baigelman.
Critic Reviews for Feeling Minnesota
Audience Reviews for Feeling Minnesota
What a crazy story about brothers. Keanu Reeves wasn't as nutty and alien as usual, especially when Vincent D'Onofrio played his character so deranged. I think the only real shining element was Cameron Diaz, who was a really good character. It's so trashy and odd, but you can go a lot worse in terms of romantic comedies.
Conner Rainwater
Super Reviewer
Feeling Minnesota is a nice forgetable movie.
½
"feeling minnesota" is keanu reeves' attempt to prove his calibre as an actor after his success at the "speed" which catapults his clean-shaved heartthrobber status. whether reeves is a good actor or not, he definitely strives to be one by the iconclastic diverse roles he has taken. perhaps this movie is neglected due to audience's disaproval of his maverick ambition. but in spite of reeves, "feeling minnesota" is an underrated neo-noir meshed with road movie gendre as well as slapstick black-humor. reeves plays jjacks, a ex-con whose brother blackmails a trashy blonde(cameron diaz) into marrying him. then this sappy never-do-good shows up at his brother's wedding and steals the bride's heart away. so these two intend to flee for vegas by thieving the cuckold's stashed money. unfortunately the couple is short-witted enough to be backstabbed by the cuckold...what ensues is phony death as well as posthumous resurrection, and the process involves someone's ear gets chewed off ghastly. the subject matter of this flick could hardly attract keanu reeves' usual fans who adore his neatly wholesome boyish charm, and low-life debauchery doesn't seem an adequate dish for keanu. but keanu's guileless innocence is also what diverges this flick from sleazy melodrama, transcending it into an unusual romance of absurdity, a strange kind of love affair. cameron diaz builds her early career with a series of spunky dirty blonde roles, and gender-reversal is a common theme in diaz's beurgeoning days. diaz was often the manipulative woman who takes the wheel, sort of edgy controlling freak type in movies like "a life less ordinary", "very bad things" and "any given sunday"...her best talent was being seductively feminine but insidiously domineering with a deviant paranoic drive until her success in "something about mary" and "charles' angels" sink her into commercialized movie star who gains quick bucks by cheesy chic flicks. it has attention-gripping cameos from punk-goddess courtney love as the waitress who gives sassy murder advices, and the last performance from old-time classic starlet tuesday weld, who was once steven macqueen leading girl in "cincinati kid" and cult-noir "pretty poison"(it was later adapted into "poison ivy" with drew barrymore in the 80s) as keanu reeves' un-affectionate mother. vincent d'onofrio, keanu's cuckolded bro, later would incarnates into the pervert child-molester in thriller "the cell". the movie also shows a realistic side of minnesota, the spontaneous angles from minnesota highways, cheap motel in slums, car-wagon with driver wearing hillbilly hat and the road-side forest with autumn leaves. it feels cozy with tangible affinity while its characters at the wrong-side of track merely dream to live in vegas just to enjoy a four-dollar buffet and the incessant glitters of neon-signs that sounds sympathetically petite but earthily endearing. one admirable quality would be the movie is still dialogue-driven with dimensions for each character. it's neo-noir without the pretentious flatulency to boast the circumstance by excessive violence and gruesomely inhuman femme fatale like "romeo is bleeding" or "reservoir dogs"...perhaps it's inappropriate to deem it as neo-noir since it still preserves the simplistic human aspect of noir with nostalgic country songs like "ring of fire" as well as its sly contemporary sense of black humor, experimentally hybridized with road movie and farce of ridicule. the ending was origionally plotted as a tradegy but altered as comedy with pleasant blossom of love due to reeves' stardom. so which would be better? you may never know.
Veronique Kwak
Super Reviewer
Feeling Minnesota Quotes
There are no approved quotes yet for this movie.