Feast 3: The Happy Finish
(2009)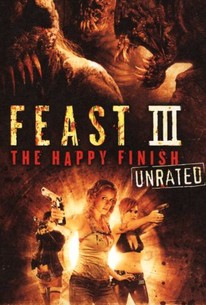 AUDIENCE SCORE
Critic Consensus: No consensus yet.
Feast 3: The Happy Finish Photos
Movie Info
The slaughter continues as the survivors make their last stand against the man-eating mutants from the desert, and a few new friends join in on the fight. The Biker Queen, the Bartender, and Lightning the wrestler are fighting for their lives when hope appears in the form of a knife-wielding karate kid and a mysterious stranger with the ability to control the ravenous beasts. But the horror isn't over yet, because these creatures aren't going down without a fight.
Critic Reviews for Feast 3: The Happy Finish
All Critics (2) | Fresh (2) | Rotten (0) | DVD (2)
the cheeseball horror movie that every horror movie fan has always wanted, but was too embarrassed to ask for.
February 26, 2009 | Rating: 3.5/5
Virtually mindless, unabashedly vulgar, and knee-deep in the childish side of the horror pool, Feast 3 is still a good deal of fun.
Audience Reviews for Feast 3: The Happy Finish
Well the first film was pretty reasonable, the second leant towards the trashy video nasty B-movie in a big way, but this final installment has really gone down the plughole. Its a total mess in every aspect, the plot is all over the place and the characters don't seem to have any plan or anything to do but run around just getting killed horribly. There seems to be some zombies living under the town now for some reason and I've never seen so many characters come and go in a film. New people enter the fray and get killed within minutes!. The ending is completely off the wall, well there isn't really a proper ending as such whilst the blood n gore is still high. This seems like an obvious ploy to attract more blood happy viewers whilst keeping the faithful few...seeing as there is no plot. The story is carried on from the second film but nothing much happens or is explained, so don't go thinking you must see this last part unless you just wanna see more people getting killed and eaten...and not much else.
Phil Hubbs
Super Reviewer
Feast 3 is the rare film in a horror franchise that can successfully close a franchise. Brilliantly fun and gory, this film continues what the first two started. This is a good way to end the series, and it still has everything that has made the franchise so original. Although the acting is never anything great, the cast are pretty good here and the film is lots of fun for Feast fans. This film like all the others is for a specific audience. I very much enjoyed this film, and I thought it had a good blend of comedy, gore horror and action. This is a mindless horror yarn that definitely knows how to push the boundaries of grossness. This film is a must see for gore fans who want a mindless and crazy monster film. John Gulager directs a very good third entry in his Feast trilogy and it still has enough good things to deliver for the audience. Go into this with an open mind, expect the same thing you expecting watching the first two films, and you won't be disappointed. This series is meant to be lots of fun, and Gulager most certainly does that. This is a good film for what it is, and it definitely is a must see if you're looking for a mindless time waster. This one may lack an effective story, like all the others, it's a fun film with loads of gore and plenty of gross out moments to satisfy its target audience. This is a third good entry in the franchise, and it still has everything you'd expect from the series. This is a memorable film, one that is just as crazy and fun as the other two. Sit back and enjoy this third entry in the series and watch these monsters wreak havoc once more.
An improvement over part 2, though that isn't saying much. Still loaded with gore and silliness, but this time a bit more cohesive than last.
Feast 3: The Happy Finish Quotes
There are no approved quotes yet for this movie.