Feast 2: Sloppy Seconds
(2008)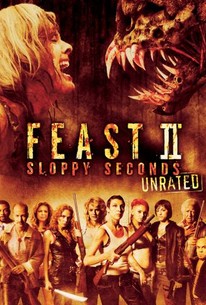 AUDIENCE SCORE
Critic Consensus: No consensus yet.
Movie Info
The writers and director of the original Feast follow the horror from the dive bar of the first film to a nearby town as the flesh-eating beasts prepare to dine on the unsuspecting locals before dashing off to the next well-populated desert buffet. The survivors of the initial attack have lived to see another day, but that doesn't necessarily mean that they'll make it through another night. Upon joining-up a desperate band of locals that include an all-girl biker gang and a tag team of fearless luchadors, the battle-weary survivors brace themselves for another bloody round of flesh-ripping, limb-hacking mayhem.
Critic Reviews for Feast 2: Sloppy Seconds
All Critics (2) | Fresh (1) | Rotten (1)
If you dug the first one, I'm pretty darn sure you'll enjoy the second visit to the Feast buffet. Bring a few extra napkins though.
Audience Reviews for Feast 2: Sloppy Seconds
Same as before with a group of folks now trapped in a small town as they get eaten one by one yet still manage to find time to kill each other and other innocent survivors they find along the way. Following on from the first film with a couple surviving cast members and simply adding lots more blood and gore all over the show, yet losing any kind of quality in the process. This film is a pure B-movie...if that. The effects are very dodgy looking with terrible bluescreen shots, the creatures look even more rubbery than before as they run around in a dodgy manner and the cast are lacking at best. Some of the main characters don't even have a single word to say during the entire film!. The title says it all really, lots of sloppy gooey gory seconds with added goo and gore on top. A purely outrageous monster mash with body parts galore, for the true monster horror comedy lovers and connoisseurs.
Phil Hubbs
Super Reviewer
With Feast II: Sloppy Seconds, director John Gulager amped up his first effort with more blood and gore. The film is packed with disgusting elements that will most likely satisfy the diehard gore fans. Feast II is so off the wall that it cannot be taken seriously. Feast II can really be seen as a guilty pleasure. The over the top violence and gore will definitely not appeal to people who their horror at a minimalistic level. But for fans of say, Lucio Fulci who are used to having blood and guts in their films, then this film is for you. Sure Feast II is mediocre compared to the works of Fulci, but in a way it echoes Fulci because the film is downright disgusting. I understand why this film has been dismissed, and I agree with those who hate it. The way I see it, is Feast II is for a certain type of Horror fan, and like its predecessor, this second offering is a film that delivers on the gore, and gross out horror. As far the story is concerned, there isn't much to consider in that department. The plot is almost none existent and surrounds a group of survivors from the night before surviving yet another monster attack. The attack is B movie quality, but the gore is cool, if you have the stomach for it. The way that I look at the Feast trilogy is that they're films designed to be silly and grotesque. Sure there isn't truly any real cinematic value to be had in these films, but this series does manage to entertain. Not perfect, but decent enough to have a good time. There are a lot worst films than this, if you want truly bad, give Wes Craven's My Soul to Take a viewing. Now that's bad!
First thing that came out of my mind was "NO ONE SEEMS TO DIE!". Yes, no matter how many parts of someone's body comes out or half of it's gone or fat metal pipe stuck inside someone's head, people still looks alive! They are still moving and talking (By the way, are they cockroaches or something?). This was uberly disgusting. Matches with the name they have given to this. The first one was okay to watch. But this was totally pointless. They tried so many ways to make this movie look good (or horrible in my opinion). Throwing the baby up in the air in a slow motion, monster effing a cat, puking, half naked women, etc so many cheap scenes to point out. And the monsters in the first movie was very fast, how come they couldn't catch that guy running with the baby? Another thing that bothered me was when the grandma's hand came out, how can anyone laugh by seeing that? It was very pathetic. I highly advice you to avoid this to watch. If you're just being curious (like me) to add this movie in your "have seen" list, then digest all the gross scenes they could think of.
Dead Angel
Super Reviewer
Feast 2: Sloppy Seconds Quotes
There are no approved quotes yet for this movie.