Feast
(2006)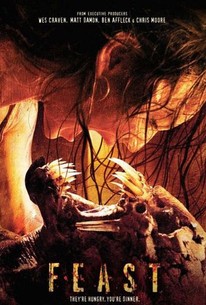 TOMATOMETER
AUDIENCE SCORE
Critic Consensus: Director Gulager makes the most of what he's given; the resulting Feast offers up some surprisingly tasty -- if far from nourishing -- morsels.
Movie Info
One evening at a rural bar, a motley bunch of patrons struggle to survive a ravenous family of flying beasts bent on eating all of them.
News & Interviews for Feast
Audience Reviews for Feast
Doesn't pretend to be original, far from it, this is your basic group of random survivors holed up and fighting off some nasty monsters with little weaponry. One by one people go down as the creatures rip them apart, no one knows where they are from or what they are, its a very simple premise but always effective. This isn't as good as I thought it would be as the creatures do look ferocious enough in the face but when seen from head to toe they do look rubbery and obviously a man in a suit. Of course you don't see them much as the camera work is fast n furious when the action kicks in and this is actually one problem with the film, the action cuts and moves very fast and its hard to follow and know who's been killed. There is a good sense of being uneasy as you watch the film though as you genuinely don't have a clear idea of who will survive from one minute to the next, there are a few 'Ellen Ripley' wannabes but not even they are guaranteed to make it. Plenty of gore and body parts and the always amusing sight of a bunch of people facing mortal danger yet still intent on beating each other up and acting aggressively to one another to not help their precarious situation.
Phil Hubbs
Super Reviewer
½
[img]http://images.rottentomatoes.com/images/user/icons/icon14.gif[/img]
Directors Cat
Super Reviewer
½
A film with a higher budget than it deserves, a lot of big influences came together to make this film including the production team of Matt Damon and Ben Affleck, the Weinstein Company, and the film had a cameo from a decent actor. Much of this was small time horror, hokey humor that tried not to be clichéd and ended up parody in the process. Everyone is usually right in the middle on this, because though it is slightly tired, lazy, and repetitive, it's also smart at times. It takes chances with its out of this world monsters, not broaching on origins, sense, even making these desert animals less menacing by showing their wants, needs, and disgusting glorification of sex and violence. Mainly, it's a film about survival in a small, enclosed space. It's about outsmarting entities that can't be studied, being strong when your circumstances leave you weak, and being the greater predator when you're obviously prey. There are far too many characters, most dead or dying far too fast, picked off because they exist. Each has their own unique flavor to add to the film, but their entire histories and futures are shown in the space of three minutes, and its just another element of parody. It's less terrifying than it is gorey, chopping off limbs, eyes, spattering blood into every orifice and on every character. The effects aren't too high tech, but the way they're set up is ingenious. Most of the film makes itself up of gore and impatient banter between the respective victims. It's paced correctly, but nothing new presents itself by the end. The dialogue is plain, and the characters end up weak and unsubstantial. Overall it's a good film to watch for the effects and ideas, but otherwise it's horror fodder.
Spencer S.
Super Reviewer
Feast Quotes
There are no approved quotes yet for this movie.