Feardotcom
(2002)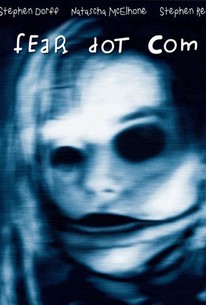 Movie Info
Terror is lurking online in this thriller directed by William Malone, who also helmed the 1999 remake of House on Haunted Hill. Mike Reilly (Stephen Dorff) is a NYPD detective who has been assigned to look into a string of murders which have taken place in Manhattan, with Terry Houston (Natascha McElhone), a researcher from the city Department of Health, lending her assistance whether Reilly likes it or not. Reilly discovers that all four victims have one thing in common -- they were all men who logged on to the same Internet website exactly 48 hours before they were killed. It seems the website features a sexy woman offering kinky fun to those who enter her domain, but clicking the wrong icon takes users on a journey into fear. Reilly decides the only way to find out the truth is to head into the website and find out what follows for the next two days -- if he can make it out alive. Fear dot com also stars Stephen Rea, Jeffrey Combs, and Udo Kier.
News & Interviews for Feardotcom
Critic Reviews for Feardotcom
Audience Reviews for Feardotcom
Fear Dot Com has often been dismissed as one of the worst horror films to be seen. Well I can say with that it's a fact that there are far worst films the Horror genre has produced over the years. Obviously the main reason that this film is dismissed so easily is that it shares similar plot lines to The Ring (which came out the same year, the American remake that is). Getting back to this film, I thought it was enjoyable enough to kill time and it was entertaining. However like everyone else, I thought the plot and acting was pretty thin. But as a popcorn horror film, this film works. Obviously not the best film, but with putting into focus all the other horror films that have come out in recent times, Fear Dot Com doesn't deserve all the flack it has received. The ideas presented in the film have been used before, but still the concept seems interesting. I personally think that the idea of dying in seven days has many angles to a good story. With The Ring it was a video cassette with Fear Dot Com, it's a website. Both films are good and very entertaining in my book. I wouldn't call Fear Dot Com great, but I would call it a pleasant time waster, which is what it is. This film is way better than a lot of trash in horror nowadays, most notably My Soul To Take. Fear Dot Com is the type of that you have to shut your brain off to enjoy. Mindless entertainment.
½
A good idea....Aweful result. It stinks...And guys in the truck....guess what...It doesn't get scarier just because it's darker. Was the lightning crew on vacation or what? Ridiculous...Like in the scene when what's-his-name looks at the clock and says "it's noon"...I guessed midnight....lights out for sure....overall....didn't make the grade
Martin Sahlin
Super Reviewer
A detective and Dept of Health officer investigate four murders after they realise the victims all used the same web site before they died.
Candy Rose
Super Reviewer
Feardotcom Quotes
There are no approved quotes yet for this movie.