Fear X
(2003)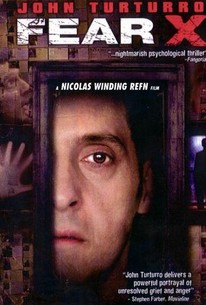 TOMATOMETER
AUDIENCE SCORE
Critic Consensus: As hazy, unsettling, and fleetingly insubstantial as a dream, Fear X will lose many viewers in its ambiguities, but is partly propped up by strong work from John Turturro.
Movie Info
For his third (and first English-language) feature, Danish writer/director Nicolas Winding Refn collaborated with celebrated American author Hubert Selby Jr. (Last Exit to Brooklyn, Requiem for a Dream). John Turturro stars in the paranoid thriller as Harry, a Wisconsin mall security guard whose wife is murdered in a seemingly random double homicide at the mall. Harry is understandably obsessed with the crime, endlessly watching surveillance tapes in an effort to find the killer. He has a vision of his wife leading him into the house next door and decides to investigate. He breaks in and finds a photo of a woman standing in front of a Montana diner. Harry drives to Montana to track her down; she turns out to be Kate (Deborah Kara Unger), the wife of Peter (James Remar), the local sheriff, who is involved with a clandestine police organization. When Peter finds out that Harry has come into town asking questions about his wife, he decides to take action to protect his family. He agrees to meet Harry at his hotel. Fear X was shot by Stanley Kubrick collaborator Larry Smith. Brian Eno contributed to the score.
Critic Reviews for Fear X
Audience Reviews for Fear X
I don't know what this guy is so worried about, because I'd imagine it would be hard to fear anything while on X, which means ecstasy... or something else. I'm sorry, but I'm too used to the "Pusher" films to not expect this Nicolas Winding Refn film to be a harsh look at drugs, and it doesn't exactly help that this is actually the passion project of Hubert Shelby Jr., the writer of "Requiem for a Dream", even though "Requiem for a Dream" was hardly as perking as ecstasy. No, I'll tell you what doesn't help my associating this film with "Pusher": the fact that it's a thriller that is far from thrilling, and even then, at least this film has the courtesy to bore me in a language that I actually understand. That's right, Ryan Gosling fans, with this film, Refn first got his Danish derrière (Oh, wait, that's French) over here to America, and you know what, that was the time critics decided to question some of his storytelling methods, either because foreign films are much easier to forgive for their pretentiousness-I mean, "experimental artistic vision", or simply because Refn had so little of an idea on how to bring his visions to America that he decided to get John Turturro, of all people, as his lead. Hey, I like Turturro and all, but, as "Barton Fink" will tell you, he's not a big box office draw, and you need only look at this film's critical reception to realize that, because I'm not saying that this film was a commercial disaster, but it's become forgotten ever since it drove Refn's Jang Go Star company into bankruptcy and ostensibly drove Hubert Shelby, Jr. to death a year later. I don't necessarily know if this film had something to do with Shelby's death, but hey, as this film about a murder disguised as an accident taught me, not every tragedy is a freak accident or a mere coincidence. Of course, then again, this film also taught me that there are things out there that aren't quite as exciting as you might hope them to be, although I must give credit where it is due. Working with a pricier, higher quality technical team, Nicolas Winding Refn calls in renouned cinematographer Larry Smith to assist him in delivering on nifty, stylish camera plays that often immerse as cleverly used, in spite of limitations to aesthetic value beyond stylish usage, kind of like Brian Eno's and J. Peter Schwalm's score, which isn't all that special by its own right either, but has a certain atmosphere to it that is very effective when used right. As you can imagine, Refn's plays with Eno's and Schwalm's score are generally misguided, and instead of intensifying resonance, the score is left to simply create white noise that exacerbates the near-punishingly bland atmosphere, yet the fact of the matter is that there are, in fact, moments in which style is handled in such a way that it subtly, but surely, breathes some life into substance. This cannot be accomplished as well as it is without the help of Refn, as director, because even though the experimental storytelling of this film is distancing, it feels a bit more realized than it did when it was applied to the misguided "Pusher", having a somber thoughtfulness that is sometimes effective in establishing subtle tension, maybe even resonance. On the whole, I was hardly interested in this snoozefest of a mystery "thriller", but there are moments in which I found myself genuinely invested in this layered and meditative drama, and for those moments, I give some credit to Refn for actually waking up, and even more credit to the real force behind this misguided character study. Leading man John Turtorro isn't really given much of the material to really play up intensity in this quietly intense "thriller", but that just makes the performance even more revelatory, because even though Stephen McIntyre steals the show when given the opportunity, Turtorro truly carries the film by effortlessly immerses himself in one of his handful of lead roles, capturing the fear of man endangered by the same man who made him a widower, and also allows Turtorro the opportunity to capture such other key emotions as anguish and anger. Turtorro cannot save this film, but so help him, he tries, and he goes further than anyone or anything in bringing life to this bore, which still has enough other strengths at its back to be brought to the border of true decency. Still, in the end, despite the best efforts of the onscreen and offscreen talent, the final product falls flat in way too many places, even as a character study, in spite of Turtorro's inspired performance. Trying to underplay conventional plotting as much as it can, this film is seriously meditative upon the life of a man who we barely known anything about, and makes matters worse by portraying gradual exposition in too abstract of a fashion for you to receive the impact of the would-be remedies for characterization shortcomings that do indeed go a very long way in distancing you from a conceptually sympathetic and worthy lead. Were it not for John Turtorro's performance, the lead Harry Kane character would be almost as uncompelling as the supporting players who come and go in this oddly seriously undercooked character study, and that, alone, does some seriously damage to this effort, which ultimately says little, no matter how much it takes its sweet time to tell it, and in an offbeat manner no less. The artistic meditativeness to Refn's approach to this film may be a little more realized than it was with 1996's "Pusher", but nevertheless, this effort is even more of the very thing that ruined Refn's breakout, and even seriously threatened Refn's decent follow-up, "Bleeder", having an experimental, almost abstract, and perhaps even intentionally incoherent structure that is not only questionable, but frustrates with pretentiousness, or at least too much ambition. If there is any kind of sensation to Nicolas Winding Refn's directorial atmosphere, then it's a feeling of ambition, whose degree of charm, broken up by moments of genuine inspiration, really does do a lot to almost save this mess, but alas, the final product crumbles short under the overwhelming weight of questionable storytelling, emphasized by both the ambition that could very well have molded it, as well as pacing problems. Even for what it is, this experimental meditative piece seriously drags its feet to a relatively brief-seeming 91-minute runtime, with excessive filler and "material" that drive the final product along as unfocused - nay - monotonous. Even in Refn's and Hubert Selby Jr.'s script, this film is just so blasted limp, and from a directorial stance, Refn makes pacing problems all the worse with a meditative atmosphere which is rarely effective, primarily carrying dead air which is inspired by a quiet sobriety that distances and bores more than anything. The film feels a little less amateur than "Pusher", - a cheap debut feature for some underexperienced Dane trying to make abstract art - and it's that which brings the final product closer to decency, because many of the missteps that ruined "Pusher" feel more considerable in this superior, but still misguided effort, which has a good bit to commend, but even more to complain about as questionable "story"telling notes that ultimately send the final product crashing into mediocrity. Once the fear has passed, just in time for nap, visual and musical style are sometimes played in an immersive fashion by highlights in a directorial performance by Nicolas Winding Refn that bring some life to the film, though not as much as John Turturro's inspired lead performance, which does about as much as anything in bring the final product to the brink of decency, which is ultimately defied by the serious underdevelopment, overambition, monotonously unfocused dragging and near-punishingly dull atmospheric dryness that back a questionable drawn non-plot concept, and drive "Fear X" into mediocrity, in spite of highlights than can't quite obscure the many shortcomings. 2.25/5 - Mediocre
Cameron Johnson
Super Reviewer
½
john turritoro haunting performance of a man desprite to know who kille his wife, by expressing it in frusteration and anger. B+
Juan Charqueno
Super Reviewer
½
[font=Century Gothic]In "Fear X," Harry Caine(John Turturro) is so obsessed with the murder of his wife Claire(Jacqueline Ramel) that it is adversely affecting his job as a security guard at a shopping mall. Not helping any are his acquaintances who either directly tell him to move on or feed him surveillance videotapes.(One would think the most prudent course of action would be to not bring up the subject at all and to try to subtly get his mind onto something else.) His investigation gets a boost when the FBI informs him that they have a picture of the murderer...[/font] [font=Century Gothic]The thing that separates superior psychological dramas like "Keane" and "Red Road" from a mediocrity like "Fear X" is a certain fearlessness, not only from the director but also from the lead actor.(John Turturro is good but he is not that good.) This movie would also have been better if the FBI had approached Harry at a point when he was starting to put his life in order. While aiming for a certain dreamlike aesthetic ala David Lynch for some odd reason, the movie falls flat on its face. And after failing to follow through on one promising idea, it disappears into another movie completely which not even the usually reliable James Remar and Deborah Kara Unger can do anything about. Only at the very end does the movie come close to succeeding.[/font]
Fear X Quotes
There are no approved quotes yet for this movie.