Favourites of the Moon (Les Favoris de la lune)
(1984)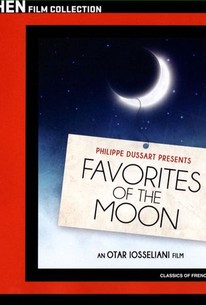 Movie Info
An unusual cinematic voyage, most viewers will come out shaking their heads and wondering exactly what they have just viewed. Still and all, though, the circular action and interweaving of the "plots" of this movie are very regimented and purposeful. The real stars aren't even the myriad diverse characters that flit through the movie; they are really the eighteenth century set of china and the nineteenth century portrait of a nude that keep turning up. An interesting, seemingly haphazard but really very structured movie that involves art dealers, burglars, terrorists, punk singers, detectives, affairs...you get the idea. All of these are interwoven into each other's lives.
Critic Reviews for Favourites of the Moon (Les Favoris de la lune)
Audience Reviews for Favourites of the Moon (Les Favoris de la lune)
½
'Les Favoris de la lune' is the first French film by Georgian born director Otar Iosseliani. There's not much point trying to explain the plot, because really there isn't much of one. The best way to describe it would be to say it's like Altman's 'Short Cuts', only Parisian style. The film follows a wealth of different characters from terrorists to New Wave singers. What does link all these characters together though is that they all seem to have something to do with an 18th century dinner set and a 19th century painting. Admittingly some of the episodes were rather funny but I'll also admit I was a little disappointed, especially since Iosseliani's earlier work looks so good. That said, it's still worth watching if you get the chance.
Favourites of the Moon (Les Favoris de la lune) Quotes
There are no approved quotes yet for this movie.