Father of Invention
(2011)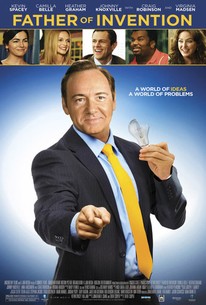 Father of Invention Photos
Movie Info
Millionaire infomercial guru, Robert Axle (Kevin Spacey) loses everything when one of his inventions has a design flaw that accidentally chops off the fingers of thousands of customers. After serving eight years in prison, a disgraced Axle is released, and ready to redeem his name and rebuild his empire with a new innovation. However, Axle's ex-wife (Virginia Madsen) has spent all of his money and moved into his house with her new husband (Craig Robinson). Out of desperation, he finds a part-time job as a janitor, and is forced to move in with his estranged daughter (Camilla Belle) and her over-protective roommates. Despite these setbacks he is determined to pitch his newest gadget and rebuild his infomercial empire. But the world has changed in the last decade, and Axle finds himself out of step with current technology, his family, and the self-confidence that made him king of the infomercials in the past. With all his wheels spinning, Axle soon realizes before he can be successful with his new creation, first he must reinvent himself. -- (C) Anchor Bay
News & Interviews for Father of Invention
Critic Reviews for Father of Invention
Audience Reviews for Father of Invention
½
Robert Axle is a millionaire infomercial guru. His life is going great until one of his products maims thousands of people. After serving around a decade in prison for gross negligence, he returns to the world, only to find his money gone, and his empire in ruins. Before he can rebuild all that however, he must first deal with his nutty ex-wife, and her new lover who is obsessed with him, and rebuild his relationship with his estranged daughter, as well as her man hating roommate, his new boneheaded boss, and the man who has taken over his old company. This is a star-studded dramedy, and it's pretty decent. It's got a lot of the same old same old in the broad strokes of the plot and themes, but it's definitely the cast and their performances who make it all worth it. Spacey is great as Axle, and it's fun seeing him with goofy facial hair and looking like a bum. Virginia Madsen is okay, but underused as his e. Craig Robinson is fun as her lover, Camilla Belle is okay, but probably the weakest link as Axle's daughter, and then we get an okay, but also underused John Stamos as the business rival, and delightful work from Johnny Knoxville as the boneheaded boss (and he really is solid. I'm serious.) and Heather Graham as the bitchy roommate. Had the cast not been decent, then this wouldn't be as enjoyable or memorable. I did like it aside from then, but it really isn't all that original. It is fairly well played and decently shot though, so yeah, if you want a good redemption story as well as proof that Knoxville has a bit of chops, then give this a shot.
Chris Weber
Super Reviewer
This was quite a surprise, especially after seeing so many bad reviews. I really enjoyed this. I have to admit, a good Kevin Spacey film is very rare these days. This one, though, I found very enjoyable. It's funny, but not always laugh out loud funny..more smiles and chuckles, and I like that in a movie. I didn't have high expectations for this one, but it is a wonderful little dramedy, in my opinion..........
Cynthia S.
Super Reviewer
Father of Invention is an interesting drama that's fairly entertaining. With a story about redemption and second chances, the film follows a former inventor who tries to reconnect with his family and rebuild his life. The casting is pretty good, and includes Kevin Spacey, Camille Belle, Heather Graham, and Craig Robinson. The story takes a few twists, and not always for the good, but when all's said and done it ends up being rather conventional. While most of Father of Invention is mediocre, it has a lot of fun and is pretty entertaining.
Dann Michalski
Super Reviewer
Father of Invention Quotes
There are no approved quotes yet for this movie.