Fata Morgana
(1971)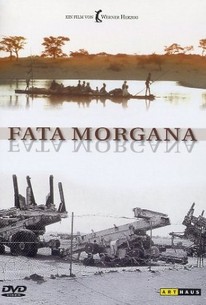 AUDIENCE SCORE
Critic Consensus: No consensus yet.
Movie Info
The term which has become this film's title, Fata Morgana, refers to mirages, and is an apt title for this storyless, hallucinatory work shot in the deserts of North Africa. It is a rhythmic, musical succession of images and short scenes. One of the images is a pianist and drummer who play tiredly, surrounded by endless tracts of desert. This is an image that has been adapted and re-used in countless music videos and is a small piece of evidence suggesting that this is a very influential film. The narration, in English, comes from a Guatemalan creation myth, and the accompanying music ranges from Couperin to Cash, with significant contributions by Leonard Cohen. Fata Morgana is one of the early features by the renowned director Werner Herzog, better known for Aguirre, Wrath of God and Fitzcarraldo. As is the case for many of Herzog's films, he paid a high price in physical pain to shoot this one; he was arrested and tortured by an African government in the mistaken belief that he was a mercenary soldier. ~ Clarke Fountain, Rovi
Critic Reviews for Fata Morgana
There are no critic reviews yet for Fata Morgana. Keep checking Rotten Tomatoes for updates!
Audience Reviews for Fata Morgana
Werner Herzog's "Fata Morgana" (another term for "mirage") is almost review-proof. I have little worthwhile to say about this experimental film, beyond noting it may be the only movie I've seen which could comfortably sit on a double bill with Godfrey Reggio's "Koyaaniqatsi." (Well, OK, not counting Reggio's other films.) Perhaps I should settle for being descriptive. "Fata Morgana" is a documentary of sorts, divided into three sections translated as "Creation," "Paradise" and "The Golden Age." The footage was mostly shot in the deserts of Africa, and is accompanied with narration that often has nothing direct to do with the imagery. The camera is typically moving, and was reportedly positioned on top of a Volkswagen bus. The soundtrack ranges from classical to instrumental folk to three songs from Leonard Cohen's then-contemporary first album ("Fata Morgana" was shot in 1969, but released in 1971). The film is unapologetically mysterious from the start, opening with several consecutive clips of planes landing on an airstrip. What? Primary sights of the first section include beaches, dunes, lakes, mountains, construction sites, palm trees, decaying carrion (not pleasant), oil refineries, primitive settlements, the remains of a wrecked plane and some native children. A female narrator recounts the Mayans' theory on the creation of the world, which centers on deities labeled Huracan, Cucumatz and the Mighty. Tales of man's divine creation and a punitive purging rain are intriguingly familiar. The "Paradise" section boldly opens with the first people to speak on camera. Thirty-seven minutes into the film. A new narrator (Herzog himself?) describes the pleasures of a mythic utopia ("In Paradise, roasted pigeons fly directly into your mouth"), and the imagery becomes more focused on people and desert civilization. Westerners enter for the first time, and so does Cohen. An odd motif arises of folks holding unusual animals -- most prominently via someone in quirky sunglasses who talks about the monitor lizards he studies. Elsewhere, zoo turtles swim in an incongruously Arctic environment. Are you still with me? The third, and shortest, section is especially strange. A third narrator speaks of the peaceful Golden Age, which is apparently the post-paradise state of things. The centerpiece here is footage of an oblivious musical duo (a female pianist, plus a man on drums and wordless vocals) rattling through haphazard, bossa nova-like ditties. The relevance is wholly unclear, but their function reminded me of the infamous dancing chicken which concludes Herzog's later "Stroszek." African choral music also appears. A clip of elderly tourists playfully climbing amidst holes in the sand may be the most random, bizarre sight of the whole film. A man plucks a ukulele-like instrument and has giggling fits as someone else ceremoniously reads a letter aloud. Hey, there's a camel. Back at the zoo, a man in scuba gear talks about the turtles. The crew shoots out the window as they fly away. It's an alien but beautiful landscape. What have we learned? "Fata Morgana" has some pretty scenery, but makes no solid point and often even fails to be evocative. My lasting impression is that Herzog shot a pile of film during a trip to Africa and, after the fact, cobbled together an excuse to turn it into a feature.
Eric Broome
Super Reviewer
½
Herzog has very much evolved as a documentarian and it's his later work I prefer where he commentates himself. In this he lets the camera linger, capturing some beautiful shots, but we're told little about what we're seeing , and unlike his later documentaries the images don't always speak for themselves.
Marcus Woolcott
Super Reviewer
Birth of mother earth,symbolic apprehension of the important natural events of our globe.Mythology is connected with idealism and future repentance of environmental/constitutional sins.Amazing Herzog,scrutinizing our minds through visual poetry.
Dimitris Springer
Super Reviewer
Fata Morgana Quotes
There are no approved quotes yet for this movie.