Fat Kid Rules the World
(2012)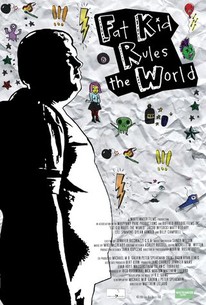 Fat Kid Rules the World Photos
Movie Info
Troy Billings is seventeen, overweight, and suicidal. Just as he's about to jump in front of a bus, he's saved by Marcus, a charming high school dropout/street musician. The two begin an uneasy friendship when Marcus enlists the musically challenged Troy to become the drummer in a newpunk rock band. As Troy's relationship with Marcus grows, Troy's father becomes increasingly concerned about his son's new friendship. -- (C) Official Site
News & Interviews for Fat Kid Rules the World
Critic Reviews for Fat Kid Rules the World
Audience Reviews for Fat Kid Rules the World
It is a great little film until the last 15-20 minutes where things are wrapped up in a story book way similar to the visions that the main character has. If they had stuck with a wee bit more realism, this would have been something.
John Ballantine
Super Reviewer
½
One of the more oddball dramedies I have seen in some time. The cast and the story in FAT KID RULES THE WORLD are pretty amazing! Matthew Lillard has carved out a nice career for himself and if this movie is any indication of his talents behind the camera. We may be seeing some good stuff from him in the coming years. Jacob Wysocki is a very talented actor and I hope to see more of him, he made this movie!
Jason Reneau
Super Reviewer
½
Surprisingly good indie film. For Matthew Lillard's first feature film, as a director of course, he has a good grasp of letting the heart of the characters shine through and the film tells a very sweet, perhaps too sweet for some, of the friendship between Troy and Marcus and how they both help each other overcome, in the case of Troy, his shyness and anti-social attitude. And Marcus getting help with his addictions to drugs and whatnot. The movie isn't really hilarious, while it does have some very funny scenes, does rely on the characters and their interactions with each other to tell its story. Somehow this film reminds me of Perks of being a Wallflower. Just the way the main characters are depressed and how they come out of their shell when they become friends with someone who accepts them for who they are. Of course it's not nearly as good or as heartfelt as Perks, but this film is still really good. The acting is more than solid. Jacob Wysocki, as Troy, is very likable. Matt O'Leary is, as his own character says, charming and fun, but he also has the most to hide emotionally. My favorite character had to have been Troy's dad because he's completely different than what you expect at the beginning. You expect this incredibly strict and unforgiving father, but it actually turns out he's the exact opposite of the army dad. He IS strict but he's definitely a fair and compassionate man, and Billy Campbell was excellent in the role to be honest. So yea, I really enjoyed this film. It's definitely very sweet, it's best described as a feel-good indie flick. Well-shot, well-written and well-acted. So I cannot complain at all.
Jesse Ortega
Super Reviewer
Fat Kid Rules the World Quotes
There are no approved quotes yet for this movie.