Fat City
(1972)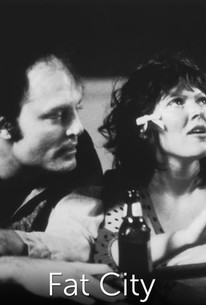 Movie Info
This gritty yet affectionate look at the world of small-time boxing highlights a down-and-out slugger and a young up-and-comer, both moving gracefully through a world of seedy gyms and flop houses.
Critic Reviews for Fat City
Audience Reviews for Fat City
½
The one consistent theme in all of John Huston's work is perpetual loss -- how it affects, and defines, people. There may not be a more cogent example of this than in his "comeback" film, Fat City, an observant and understated study of desperation and marginalization. It's a shame that Stacy Keach's film career never materialized (though he's had a good run in TV) because he is sensational here. If nothing else, this underrated film is worth seeking out for Conrad Hall's cinematography alone. He has done nothing but brilliant work in his career, but Fat City may be his finest hour.
Jonathan Hutchings
Super Reviewer
½
John Huston's pictures are humane. All he had was sympathy and respect for those men and women born losers, survivors, ordinary people with struggles, sacrifices, constant boredom, values, cares, hopes, little but fruitful victories, plus scattered and rare but strong connections between them, that help to make it through each day. Here was accomplished another masterful allegory of life through boxing. Poetry with no need of words.
Pierluigi Puccini
Super Reviewer
a really good and gritty drama that must contain the performance of stacy keach's career. he plays a washed up fighter pushing 30 who meets young jeff bridges on his way up. and just who the hell is susan tyrell? i wanted to slap her in every scene. outstanding performance. it's a downer but a beautifully done and pretty much forgotten huston film from the 70's which was something of a comeback film for him. huston was a fighter in his younger days and so was the scriptwriter who adapted his own novel. they knew enough to get the details right. i loved the scenes where the trainers go on about the injuries they've seen.
Stella Dallas
Super Reviewer
Fat City Quotes
There are no approved quotes yet for this movie.