Faster
(2004)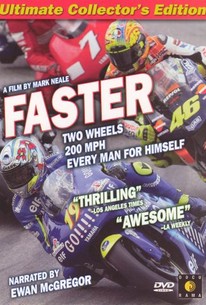 Movie Info
Directed by Mark Neale, Faster revolves around a world as competitive as it is dangerous: championship motorcycle racing. Filmed throughout the 2001 and 2002 seasons, the documentary delves into the 16 races held annually; these competitions culminate in the naming of a single champion. Like most extreme sports documentaries, Faster has more than its share of thrills, spills, crashes, slide-outs, and flips. The footage is supplemented, however, by interviews with racers including Australian veteran Garry McCoy, who had a titanium rod put in his leg only to crash shortly afterwards; the now-paralyzed former racer Wayne Rainey; hotshot American newcomer John Hopkins; and Italian rivals Valentino Rossi and Max Biaggi. Managers, mechanics, and doctors also offer insight regarding what makes championship motorcycle tournaments tick, and the borderline obsessive dedication needed to persevere within the sport.
Critic Reviews for Faster
Audience Reviews for Faster
Faster is the entry in Mark Neale terrific trilogy about the competitive world of motorcycle racing. Neale goes into the action, uncovers some of the sport's greatest racer, new and old and delivers a vivid, compelling and well made documentary. The sport of MotoGP is dangerous and we see the men who race these machines, who would risk it all to be the greatest in the sport. Faster looks at the passion of each man that wants to be the best. Although not as great as Fastest, I really enjoyed this one, however it lacked in terms of really going in the action, and that's something that Fastest did so well. Despite its flaws, this is an entertaining documentary that should deliver the thrills that Moto fans should be looking for. I enjoyed the footage of John Hopkins, and I really think he's a great rider. This is a fine film that overcomes its flaws, and despite its limitations, overcomes its limitations and delivers a memorable viewing experience that will surely entertain you from start to finish. Mark Neale goes into his subject with this film, and though it is not as fulfilling as Fastest, manages to be a film worth seeing and one that is worth seeing. Mark Neale is a great filmmaker and he proves that with this film, along with the subsequent sequels. There's plenty of excitement here and it is never dull, boring or tiresome. This is a must see documentary that delivers the thrills of the sport of Moto Gp, and it's only topped with the 2011 sequel, Fastest. This is documentary filmmaking at a whole new level.
Faster Quotes
There are no approved quotes yet for this movie.