Fast Food Nation
(2006)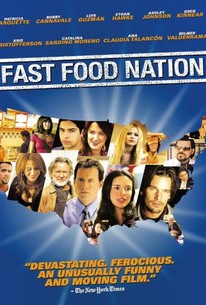 TOMATOMETER
AUDIENCE SCORE
Critic Consensus: Despite some fine performances and memorable scenes, Fast Food Nation is more effective as Eric Schlosser's eye-opening non-fiction book than as Richard Linklater's fictionalized, mostly punchless movie.
Movie Info
Inspired by author Eric Schlosser's New York Times best-seller of the same name, director Richard Linklater's ensemble drama examines the health issues and social consequences of America's love affair with fast food and features an all-star cast that includes Greg Kinnear, Ethan Hawke, Kris Kristofferson, Patricia Arquette, and Luis Guzman. Mickey's is the most popular fast-food chain in America, and The Big One is the top-selling burger that put them on the map. When the higher-ups at Mickey's corporate offices learn that the frozen meat patties used to make the wildly popular burger have somehow been tainted with contaminated meat, they send marketing executive Don Henderson (Kinnear) on an urgent mission to ensure quality control and find out precisely how their product became compromised. It's a long way from the Southern California boardroom to the immigrant slaughterhouses, though, and the further Henderson works his way through the bustling feedlots and toward the ubiquitous restaurant sites that have become a staple of modern culture, the more he begins to realize just how dangerous convenience can become when it leads to blissfully ignorant complacency. ~ Jason Buchanan, Rovi
News & Interviews for Fast Food Nation
Critic Reviews for Fast Food Nation
Audience Reviews for Fast Food Nation
½
Based on the non-fiction expose about the dirty secrets of the fast food industry, this is a fiction adaptation directed by Richard Linklater, and co-written by him and the book's author Eric Schlosser. What we get here are a series of interconnected stories revolving around the various people involved with a fast food chain, and the role that the restaurant and various aspects connected to it affect all of these people, and vice versa. It seems like a rather odd and challenging way to adapt a work of non-fiction, but somehow it kinda works. Granted, the film barely scratches the surface, and seems a little too neat, tidy, and convenient in places, but it strikes a nice balance between being a message movie like the similar Super Size Me or Food, Inc. and still being entertaining without too much pretense or over-the-top manipulation to make a point. Yes, there's some disturbing moments and images, but it's not as revolting and off putting as you might be lead to believe. Instead, it's rather nuanced. and more about the human stories and the role of fast food within culture as opposed to being an extremist piece of muckraking propaganda. As he is good at doing, Linklater has a wonderful ensemble cast lined up for this which includes Ethan Hawke, Greg Kinnear, Patricia Arquette, Bonbby Cannavale, Wilmer Valderama, and two wonderful,. if not brilliant appearances from Kris Kristofferson and (especially) Bruce Willis. Most of their performances are pretty good too...for the most part. Avril Lavigne sucks it up, but at least she's not in it for too long. All in all, a pretty decent film. I'm not going to become a vegetarian as a result of watching this, and it didn't tell me a whole lot that I didn't already know, but at least gave some more awareness and the arguments that are made are pretty well balanced are well done, too.
Chris Weber
Super Reviewer
A marketing director for a major fast food joint investigates reports that there is "shit in the meat." I suppose that attempting to fictionalize a non-fiction book about a systemic problem sets one up to create plastic characters who stand in for larger social problems, and to put Richard Linklater whose characters are plastic anyway only compounds the problem. Typical of Linklater, the heroes and villains are clearly defined; the heroes are anti-establishment types who spout conspiracy theories, and the villains are either conspirators, dupes in the process, or like the cows in the penultimate scene of the film, too stupid to do anything substantial. There are some Mexican illegal immigrants who have some interesting differences from the basic Linklater approach, but these characters aren't substantial enough to carry the film. Additionally, plot elements like Brian's planned robbery and Don's further investigation are inexplicably dropped, leaving parts of the film unfinished. On a positive note, the film's heart is in the right place. Linklater and co-writer Eric Schlosser are writing against fast food joints, and their arguments are similar to Michael Pollan's. With disgusting images of the kill floor in a slaughterhouse and charges that such places are exploiting illegal labor markets, this argument is strong, and I hope that it finds a receptive audience. Overall, as a film, Fast Food Nation is not very good, but as a social argument, I can't hate it too much.
Jim Hunter
Super Reviewer
½
Poorly constructed film that could have been much better considering the themes of the film. I haven't read the book yet, but as far as this film is concerned, I felt it was a poorly done film with plenty of miscast parts. The film could have been good, by actually being a documentary instead of a feature. Overall I thought that the film showed a portion of what's the industry does, but it didn't do anything really good with the material at hand. Considering the topic, you'd think they would add something substantial to the script, but all this film ends up being is a badly acted film that just shows part of industry, and ignores a lot of the important issues. Stripping down the important material, and basically fictionalizing the story, it really makes Fast Food Nation just ends up being uninteresting. The end result is a film that just fails in being entertaining, but most importantly the film fails to raise awareness about the practices of the Fast Food industry. This film could have been good, but it simply doesn't work and the acting is pretty sloppy. Ultimately you lose focus on what's going on, and you just don't end up caring for the material. This is a film that was better off at trying to be adapted directly from the source material, instead of being interpreted into something else. Even if the issues are important, this film isn't, and it ultimately just becomes dull, and uninspired. This could have been a great film, even if it has a powerful message, it fails because of the bad script and performances, and that's a shame.
Fast Food Nation Quotes
There are no approved quotes yet for this movie.