Faraway, So Close! (In weiter Ferne, so nah!)
(1993)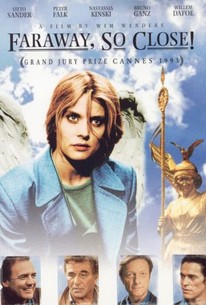 Movie Info
The sequel to German director Wim Wenders' acclaimed Wings of Desire (1987) features a stronger plot orientation but somewhat less whimsy than its predecessor. The focus shifts to the angel Cassiel (Otto Sander), who, like his one-time partner Daniel (Bruno Ganz), begins longing to become human. Unlike Daniel, however, Cassiel isn't motivated by love, but altruism. He's frustrated by his inability to effect any change in people's lives, even though he is able to read their thoughts and understand where their lives are going wrong. When a girl is about to fall to her death, Cassiel saves her and finally becomes a mortal. He looks up Daniel, who is now the happy owner of a pizza parlor and married to the trapeze artist Marion (Solveig Dommartin). Now looked over by his own angel, Raphaela (Nastassja Kinski), Cassiel also sets about helping a gangster, Tony (Horst Bucholz) escape his criminal life and reunite with his sister. In the meantime, however, Emit Flesti (Willem Dafoe), Cassiel's otherworldly angel superior, plots to return the errant angel to the flock. Lou Reed appears briefly as himself, replacing Nick Cave from the earlier film.
Critic Reviews for Faraway, So Close! (In weiter Ferne, so nah!)
Audience Reviews for Faraway, So Close! (In weiter Ferne, so nah!)
In this sequel to Wings of Desire, 2 other angels watch over the lives of the people, however this this film has changed its tone from a romantic avant garde drama to a thriller... It's still watchable but the running time was so long I almost fell asleep.
Sylvester Kuo
Super Reviewer
Failure to grasp or personal tensions hovering or both of them, whatever be the cause, I can't rate this movie any more than 1/10, I kept my patience at its best even though it started ticking me off after a few minutes. Since it's rated so high and is given the form of a thriller, I just kept waiting for something interesting to happen. Even slightly. But I was expecting for too much here. Introduction of more and more characters with random events going on was a terrible mess. I might have been inclined to care for those random moments had they not been executed so genuinely. Yet I gave it the best attention I could hoping for that an engaging sequence, but it was too long before such a moment finally arrived. Unfortunately, what lied beyond wasn't any good either. Painfully slow (whether or not intentionally; no spoilers intended), this movie was an extremely traumatic experience for me. [Yet it'd probably stay in my memory for quite a while since I can't remember when I was thiiiiiiiiis optimistic (kept waiting hoping that something interesting to happen) last time.] The length of the movie only added to my agony. Since I didn't like it, most of you are bound to. Well,that's it then. You've my consolations if you've had the same experience reading my comment.
familiar stranger
Super Reviewer
A fantastic sequel, although it departs in tone from the original film, this film shares the same themes, but is more of a mystery, one might go as far as to classify it as a thriller believe it or not. It won the Grand Jury Prize at Cannes and was nominated for the Palme d'or. This truly needs to be seen more, only one of my Flixster friends have seen it! It stars the cast of Wings of Desire: Otto Sander(This time as the lead), Bruno Ganz, Peter Falk, and Solveig Dommartin. In addition it also stars Willem Dafoe, Nastassja Kinski, Horst Buchholz, and even Mikhail Gorbachev(In his only acting role) and Lou Reed.
Faraway, So Close! (In weiter Ferne, so nah!) Quotes
There are no approved quotes yet for this movie.