Far From Heaven
(2003)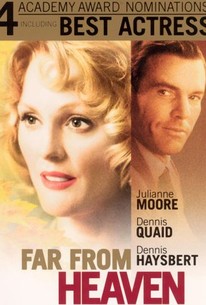 TOMATOMETER
AUDIENCE SCORE
Critic Consensus: An exquisitely designed and performed melodrama, Far From Heaven earns its viewers' tears with sincerity and intelligence.
Movie Info
It is the fall of 1957. The Whitakers, the very picture of a suburban family, make their home in Hartford, Connecticut. Their daily existences are characterized by carefully observed family etiquette, social events, and an overall desire to keep up with the Joneses. Cathy Whitaker is the homemaker, wife and mother. Frank Whitaker is the breadwinner, husband and father. Together they have the perfect '50s life: healthy kids and social prominence. Then one night, Cathy discovers her husband's secret life and her tidy, insular world starts spinning out of control. Fearing the consequences of revealing her pain and confusion to anyone in her own social circle, she finds unexpected comfort and friendship with her African-American gardener, Raymond Deagan. Cathy's interactions with Raymond; her best friend Eleanor Fine; and her maid, Sybil, reflects the upheaval in her life. Cathy is faced with choices that spur gossip within the community, and change several lives forever.
Critic Reviews for Far From Heaven
Audience Reviews for Far From Heaven
½
Emulating with perfection the style of Douglas Sirk's melodramas from the 1950s and with a gorgeous cinematography, Todd Haynes relies on two splendid performances by Julianne Moore and Dennis Quaid to make a powerful and still relevant statement on intolerance.
Carlos Magalhães
Super Reviewer
Todd Haynes has often been an experimental director throughout his career. He tackled the Glam Rock era with the dazzling, if mid-judged, Velvet Goldmine and had 6 different actors portray various phases of Bob Dylan in I'm Not There. Most recently his adaptation of Patricia Highsmith's Carol made many critics and viewers' lists for the best film of 2015. Despite his creative ambitions, however, he's never really been recognised in terms of awards. The only Oscar nomination he has received was, in fact, an Original Screenplay one for this film. I've yet to see Carol (which apparently shares similarities with this) but so far, Far From Heaven is Haynes' masterpiece. Connecticut in 1957 finds Cathy (Julianne Moore) and Frank Whitaker (Dennis Quaid) as the seemingly perfect couple at the heart of their community. Frank has a secret, though, and when Cathy discovers his double life, she begins a friendship with her black gardener Raymond (Dennis Haysbert). But such behaviours soon invite the unwanted attention and scorn of their so-called friends and neighbours. As soon as this film opens, you are instantly struck by Elmer Bernstein's evocative score and a colourful palette that just radiates from the screen. It doesn't take long to realise that Haynes is paying homage to the film's of the 1950's. Douglas Sirk is a particular director that Haynes is emulating and recreating his melodramatic soap opera's like Imitation of Life or All That Heaven Allows is so convincing that you'd be forgiven for questioning whether or not you're watching a contemporary film. There's an intoxicating attention to detail whereby Haynes puts so much care into this film that you're transported back the 50's era. His efforts are so meticulous and refined that Far From Heaven is nothing less than a stunningly crafted piece of cinema. Peter Rogness' art design and Mark Friedberg's production design are simply splendid and the lavish costumes by Sandy Powell change throughout the film to suit the seasonal changes in the plot. All of this is perfectly framed by Edward Lachman's stunning cinematography. His use of light and vibrant, oversaturated colours keep in tune with the bold use of technicolor from Sirk's melodrama's and is absolutely exquisite work. Haynes' intention is to capture the nuclear, corporate family living the dream of white picket fence America and he does so with a confidence and hugely creative eye. Despite his accomplished recreation of the times, however, Haynes chooses an entirely different direction for his narrative. What sets his film apart from the style of Douglas Sirk is that Sirk's films were all very conservative, whereas Haynes' perfect suburbia is shattered by very personal problems that would have been taboo and risqué by any standards during the 50's. Society, in Haynes' world, is full of casual racists and homophobes who view homosexuality as an illness and being kind to Negros socially unacceptable. The underrated Patricia Clarkson is the perfect embodiment for the judgmental rottenness that permeates the neighbourhood. She epitomises the very people of society that the three, inherently decent, principal characters of Quaid, Haysbert and Moore are up against. With the facade of some and anguish of others, it cuts across so many divides: gender, race, class, sexual orientation but although it's about several different levels of oppression it's, at it's heart, a story about the oppression of women. Ultimately, this is about a women's place at this time; how tolerant they were expected to be and how keeping up appearances was at the forefront of their place within a fractured, consumerist environment. With his experimental evocation, Haynes could easily fall prey to pretension but for as much style as the film has, it has content to match. Simply speaking, it's a work of art. Mark Walker
Mark Walker
Super Reviewer
I can't help but think that Mad Men took some of its inspiration from this piece. Interracial romances and homosexuality were so much more salacious when they were taboo...
Letitia Lew
Super Reviewer
Far From Heaven Quotes
There are no approved quotes yet for this movie.