Far and Away
(1992)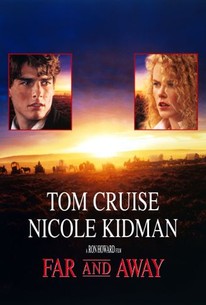 Movie Info
In this epic Ron Howard film, Joseph Donelly (Tom Cruise) is an impoverished 19th-century Irish tenant farmer who has recently lost both his father and his home to the agents of his unscrupulous landlord. On a mission to avenge his family's injustice at the hands of the ruthless land baron Joseph meets the landlord's daughter and the two run off to America together where the girl expects to claim a piece of land for herself in the Oklahoma Land Rush. After she is robbed on the boat that carries them to America, they arrive with nary a penny and struggle just to keep their heads above water in the slums of Boston. After a series of serious set-backs they do eventually work their way out West, where Joseph must fight to realize his dream and claim a piece of the American Dream for himself -- and where they finally acknowledge their love for each other. Shot in wide-screen Panavision, the movie was filmed on-location in Ireland and Montana.
Critic Reviews for Far and Away
Audience Reviews for Far and Away
½
The accents of the leads are horrible and the plot is quite silly at times but the film is entertaining enough to be bearable.
Pleasant film, if you're of Irish ancestry. Nothing is really special about the film. Some of the acting is vapid, the costumes are nothing special, but I do like the sound track.
Christian C
Super Reviewer
This might have been one of the first movies I had ever seen, so my eight-year-old, limited-English-speaking self enjoyed it at least. Upon rewatch, I was disappointed to find its total puke-in-my-potato-and-leek-soup schlock-value. The stereotypical, opposites attract characters - Tom Cruise's rough bruiser, Nicole Kidman's fiery aristocrat, Robert Prosky's burdened rich man - John Williams' by-the-book, authentically inauthentic score, and Tom's authentically inauthentic accent (which is at least consistent).
Alice Shen
Super Reviewer
Far and Away Quotes
There are no approved quotes yet for this movie.