Fantastic Planet
(1973)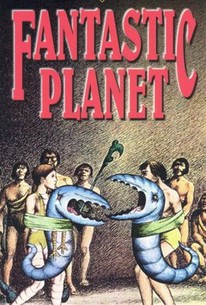 Movie Info
This futuristic story takes place on a faraway planet where giants rule, and oppressed humanoids rebel against the machine-like leaders.
News & Interviews for Fantastic Planet
Critic Reviews for Fantastic Planet
Audience Reviews for Fantastic Planet
A silly and sterile animation that believes to be much smarter than it is (even the wordplays Oms and Terr are obvious), not to mention that it is visually and audibly dated (the music is awful) and constantly loses focus with too much unnecessary detailing about the wild life in Ygam.
Carlos Magalhães
Super Reviewer
The Terry Gilliam-esque animation is very trippy and goes along with the creepy surreal sci-fi settings nicely. The best part of the film is witnessing the creativity of the animators through the wacky unusual creatures and sci-fi aesthetics. One of my favorite moments was a scene where a weird bat-like creature attacks the human colony and the humans have to take it down. The film also has a tasty avant-garde soundtrack that adds to the surreal vibe of the film. This film was originally released on a double bill with 'Yellow Submarine', which was another counterculture film released under the guise of a children film. The plot boils down to a 'Planet of the Apes'-like story with a thinly-veiled Cold War undertone. While the animation steals the show, the story unfortunately never lives up to it's potential. The characters are simply boring, and the bland voice acting make the characters seem even more lifeless. Plus despite being an adult animated film, the plot ends up being simplistic-to-a-fault while the ending is a super-cliche "can't we all just get along" happy ending that seemed too good to be believable. The animation alone makes the film worth seeing but don't expect the narrative to blow your mind.
Christopher Heim
Super Reviewer
½
In the distant future, humanity has been captured by a race of giant blue aliens with mystical powers and removed to a planet where they are kept as pets; one man raised in captivity escapes to join the "wild Oms" and devises a plan for humanity to escape. The Salvador-Dali-meets-Terry-Gilliam-in-space animation and psychedelic soundtrack invite altered viewing, but this is more than JUST a trip; there's a strong sci-fi story here set in a beautifully realized alternate realty.
Fantastic Planet Quotes
There are no approved quotes yet for this movie.