Fanfan
(1993)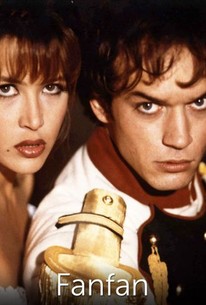 AUDIENCE SCORE
Critic Consensus: No consensus yet.
Movie Info
Alexandre (Vincent Perez) has been through the cycle of seeing the initial passion in romantic encounters burn off and having the relationship become routine and boring. He thinks that this happens for two reasons: the courtship and wooing dance ends, and mere sex enters the picture. He is determined to prevent this cycle from happening with his latest love-interest, a sexy young woman named Fanfan (Sophie Marceau). However, despite the delightful, romantic and inventive ways he discovers for them to spend time together, Fanfan finds his refusal to go to bed with her increasingly irritating; their burgeoning relationship is seriously jeopardized by Alexandre's attachment to his plan. This film is based on the director's best-selling novel, which was translated into almost two dozen languages.
Critic Reviews for Fanfan
There are no critic reviews yet for Fanfan. Keep checking Rotten Tomatoes for updates!
Audience Reviews for Fanfan
An engaged man who believes that long-term relationships, particularly marriage, inevitably destroy the romance that he craves decides to win the affection of a pretty acrobat and never share physical intimacy. This French romantic fantasy blossoms with lots of charm, it's impossible not to love Sophie Marceau as the whimsical Fanfan. Alexandre on the other hand gives new meaning to the word douche, which is impressive because the French invented it. Not only is he screwing over his gorgeous fiancée, but he strings Fanfan along without regard for her emotions - or her sanity. If you wanted to be near someone, but stay at a distance, what is the perviest thing you could think of to do? That's right, secretly rent the apartment next to her and replace her wall-length mirror with a one-way mirror when she next goes out of town. But if you're willing to suspend reality, this leads to a couple wonderful scenes back to back with Fanfan first posing in her bubble bath and then her and Alexandre dancing to swing music on opposite sides of the mirror. The scene where they travel back in time to 1813 Vienna on a movie set is equally magical. If it was not for Alexandre and his hang-ups I would give an even higher rating as they demonstrate a real onscreen chemistry together.
Doctor Strangeblog
Super Reviewer
Fanfan Quotes
There are no approved quotes yet for this movie.