Family Weekend
(2013)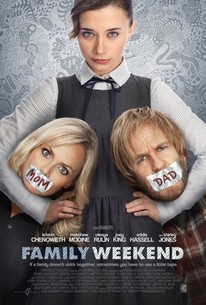 Movie Info
When a 16-year-old girl becomes fed-up with her self-absorbed family's lack of attention and affection - she decides to take matters into her own hands - and take her parents hostage.(c) Official Site
News & Interviews for Family Weekend
Critic Reviews for Family Weekend
Audience Reviews for Family Weekend
Wacky and fun, Family Weekend is an entertaining comedy with a bit of a dark edge. In a desperate attempt to save her family a 16-year-old high school girl kidnaps her parents in order to get them to realize how dysfunctional and out-of-touch they've become. Olesya Rulin gives an excellent performance and brings a lot charisma to the film. Additionally, Kristin Chenoweth and Matthew Modine give strong supporting performances. And while it's not a straight dark comedy, the humor has a quirky tone that works very well. Delivering some good laughs, Family Weekend is an enjoyable screwball comedy.
Dann Michalski
Super Reviewer
Imagine House Arrest, the movie with Jamie Lee Curtis that pretty much has the same basic concept of the kids locking up their parents, except better. The movie, as did Barry Munday, does have an inconsistent tonal approach, some of the jokes don't work but the movie is certainly solidly acted with a cast that does elevate the script past its weaknesses in delivering consistent comedy. If there's one problem is that the movie does become overly sentimental and EVERYTHING that happened in the movie happens in a period of 24 hours. In 24 hours this family goes from being at each other's trust and not being able to be in each other's presence, to being the best family the world has ever seen and while, granted, this film wasn't meant to be a realistic movie with realistic situations, it does strain credulity to think that all this crazy shit could happen in 24 hours. And this film is a pleasant surprise in that it opened my eyes to a really talented actress in Olesya Rulin. I've literally never seen this woman before this movie, and no I never watched High School Musical (and I don't plan on it) so don't bother asking, but she was really quite good here. I thought, with the way her character came across at first as a perfectionist snob, that it would make the character unlikable. Thankfully Olesya steers her character away from that and makes her likable as she really just want her family to go back to the way they were. And that brings me to another problem with the movie, there's this implication that the family, back in the day, used to be incredibly close and there's no real indication as to what happened that ended up driving the family apart. I mean it's said that Samantha and Duncan (Emily's parents) have had struggles in their marriage what with Duncan not being able to create a painting in 3 years. But, and this is the way the film presents it, it doesn't really seem like THAT much has happened to the family to justify this illegal "intervention" Emily has staged to rehabilitate her parents. As mentioned the cast is quite good, and I do think their talents make some of the film's weakest moments into better than they are. For example Jackson pretending to be gay to appear more artistic and his father's reaction to it when Emily outs Jackson as actually being straight. That aspect of the film probably wouldn't read as well as it plays out on screen, and I think that's entirely due to the cast. I also like Joey King's character who would dress up and pretend to be characters from some of her favorite movies. Again probably looks bad on paper, it plays out better on execution. The cast really is the best part of the movie, but the script doesn't give them much to work with. And by that I mean, the movie isn't consistently funny for the most part. I found the story progression to be solid, if a bit absurd thanks to the whole 'everything happens in such a short period of time' bullshit. I thought this was a solid watch, probably something I won't ever watch again but it's still a pretty good movie.
Jesse Ortega
Super Reviewer
Family Weekend was a film I decided to watch because I just wanted something to watch to pass the time. But even though it's pretty cheesy it still ended up making me laugh. It has a great variety of characters which made the family in the film one of the more interesting ones I have come across. Joey King was awesome in this. Her character has a love for movies and her character kept reenacting some pretty famous roles. It was a lot of fun to see such a young talent embody them. The movie isn't something I would have originally have ever chosen to watch, but it's not one I regret seeing.
♥˩ƳИИ ƜѲѲƉƧ♥
Super Reviewer
Family Weekend Quotes
There are no approved quotes yet for this movie.