Falling Angels
(2005)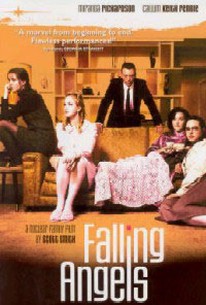 Movie Info
Canadian filmmaker Scott Smith directs the black comedy Falling Angels, based on the novel by Barbara Gowdy and adapted for the screen by poet and author Esta Spalding. Set in the late '60s and filmed on-location in Saskatchewan, this dark family drama focuses on the three teenaged daughters of the Field household. Callum Keith Rennie plays Jim Field, the loud-mouthed, domineering patriarch who has intimidated his wife Mary (Miranda Richardson) into a catatonic state of alcoholism and depression. Norma (Monté Gagné) is the oldest, most responsible daughter; she is overburdened and preoccupied by events from the past. Middle child Lou (Katharine Isabelle) chooses the rebellious path in order to escape her father's unreasonable demands. Youngest daughter Sandy (Kristin Adams) aspires to maximum femininity, engaging in an affair with an older, married man (Mark McKinney) in the process. Falling Angels was shown at the 2003 Toronto Film Festival.
Critic Reviews for Falling Angels
Audience Reviews for Falling Angels
Funny? There is nothing funny about this. Where to begin? Incredible story of loss, mental illness, and family dysfunction. That last term seems inadequate here. It could easily have become mind-numbingly depressing, and very nearly did for this viewer, but strong performances by a terrific cast kept it from plummeting over the edge. Hard to imagine how a woman as depressed as Mary (Miranda Richardson) could subsequently have three daughters without her depression being diagnosed, but this was the dark ages when it comes to psychology. The three girls must care for their incapacitated mother, stay out of the way of their psychotically violent father, and somehow maintain a facade of normality for the outside world. There were so many pressures on this family, it is a wonder any of them is capable of even the most basic functions. This viewer felt like each of the girls will always struggle with life's choices. Yet, somehow in the face of unspeakable tragedies, these girls seem to have the strength to continue to struggle. These three young actresses (Katherine Isabelle, Kristin Adams, and Monte Gagne) managed to make their characters believable, sympathetic, and incredibly resilient. Hard to watch, but, wow!
Mark Abell
Super Reviewer
Falling Angels Quotes
There are no approved quotes yet for this movie.