Falcon Down
(2000)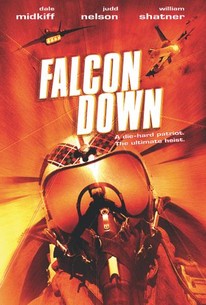 AUDIENCE SCORE
Critic Consensus: No consensus yet.
Movie Info
Several Hollywood veterans, including Cliff Robertson (Brainstorm, Star 80), Judd Nelson (The Breakfast Club, St. Elmo's Fire), and William Shatner (Impulse,Star Trek), lend weight to the direct-to-video espionage thriller Falcon Down. A failed sub-rasa weapons test incites the United States military to pull ex-fighter pilot Hank Thomas (Dale Midkiff) out of semi-retirement. His mission: slip into China and abscond with a massive supersonic jet -- its power unimaginable to the mind of the layperson -- equipped with a weapon of mass destruction. Within days, Thomas finds himself acing his way through Asian skies -- a one-man target of the Chinese Air Force, surrounded by the deadliest missiles known to man. And all point directly at him. Jennifer Rubin and Dean Biasucci co-star; Phillip Roth directs.
Critic Reviews for Falcon Down
There are no critic reviews yet for Falcon Down. Keep checking Rotten Tomatoes for updates!
Audience Reviews for Falcon Down
Pretty good movie. There were a lot of twists that I didn't see coming. The acting was okay, didn't understand some of it because I was playing on the computer as I was watching it. So I might've missed some vital details, but whatever. Dale Midkiff was my favorite in this movie. He played the role pretty well. Ummm...............that's all I have to say about this movie.
Falcon Down Quotes
There are no approved quotes yet for this movie.