F
(2010)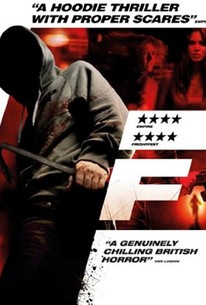 Movie Info
A terrified group of teachers and students are locked inside of a high school by a mysterious gang of vigilantes who waste no time in picking off the unlucky victims one by one.
Audience Reviews for F
½
Dull, badly acted, flat and badly written horror.
Daniel Parsons
Super Reviewer
'F' is interesting initially, however it descends into a woefully banal, generic and wholly unfrightening slasher flick. This film takes me back to watching my classmates' Horror trailers in secondary school; it seems as if the film-makers consulted a GCSE Media Studies text book when attempting to construct tension, it's tiringly cliched and ineffective. The film's score becomes hilariously useless, which borrows elements from the children's rhyme in 'A Nightmare on Elm Street'. The film's paper-thin, immature and utterly dumb plot makes me think that the crew also opened the text book when it came to narrative, which consists of a secondary school being raided by hooded assailants whom needlessly jump and climb around with such agility that they appear to have either been bitten by a radioactive spider or are just psychotic break dancers, it's all completely stupid. Those who are expecting gory, bloody fun will also be sorely disappointed, as there are only one or two brief scenes of violence being committed; the make-up department could only manage applying the grisly details in rather unexciting post-murder sequences. Almost all of the characters are obnoxious and flat: the unreasonable, vindictive daughter; the cold, officious bitch of a boss; the overly sarcastic, rude little urchin of a security guard. They all add up to an increased blood pressure; a testament to their acting credibility, perhaps. As I said, the film began strongly. It appeared to be a straightforward but compelling, resonating story about a middle-aged man wrestling with the pressures of work and family after suffering what he considers an injustice, however it devolved into a pointless, amateurish rip-off.
Jack Hawkins
Super Reviewer
I've wanted to see this since it came out at Frighfest last year. It's a good concept as it seems quite relevent in today's society and the film starts well with David Schofield as a teacher who is attacked by one of his pupils and isn't given the support by his fellow teachers that he feels he deserves. A year later he is shadow of his former self and a bit of a joke to pupils and staff alike. All this changes though the night a group of faceless hoodies attack his school. Schofield is brilliant as the teacher and it's nice to see him playing a lead role after years of being a support in big Hollywood films. Ruth Gemmell is also good as the bitchy headmistress and the film has some nice gore effects as teachers are picked off one by one. Unfortunately, although it is barely 1 1/4 hours long the film isn't edited well enough sustain the pace that's needed to make this a great slasher. Also we don't get enough time to get to know a lot of the teachers before they're offed. Plus points include the faceless hoddies never being revealed (are they pupils or are they something more supernatural?) and the acting is pretty good. A shame the film didn't have the balls to go full out and have Schofield deliver some real punishment to all the hoodies a la John McClane but it's still a decent British horror.
David Sayers
Super Reviewer
F Quotes
There are no approved quotes yet for this movie.