Executive Decision
(1996)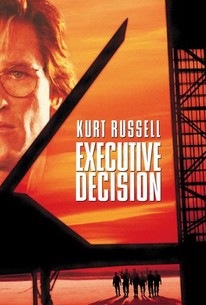 TOMATOMETER
AUDIENCE SCORE
Critic Consensus: Executive Decision adheres entertainingly to classic action thriller formula, proving a genre outing doesn't need to win points for originality to be solidly effective.
Executive Decision Photos
Movie Info
This high-flying, action-packed aerial thriller chronicles the courage of a hastily assembled team of commandos charged with saving a filled-to-capacity commercial jet-liner from an Islamic terrorist group. Suspecting that the terrorists are carrying nerve gas, officials are torn between attempting to rescue the passengers, or destroying the plane.
Critic Reviews for Executive Decision
Audience Reviews for Executive Decision
A top quality action film with a strong performance from David Suchet. A terrorist group hijack a plane to get their leader released but do they have other plans as well? Plenty of action, stunts and aerial scenes in this tense action /thriller.
When this film came out it may have looked unrealistic for terrorists to hijack a plane and use it as a weapon against the USA. As we know now that is a pretty terrifying and real scenario, one that even still makes parts of this film hard to stomach. This plot's attempts to stop the catastrophe are nail-biting suspenseful, with quite a few surprises when it comes to the death toll and likable yet unlikely heroes. It's also very cool that this film celebrates a civilian's (Kurt Russell) intelligence as much, if not more, than the strike team's killing skills. Once the survivors drive away into the snow to the sounds of an old tune you know you've seen one of the best Die Hard films without Bruce Willis.
One of the first action films I remember seeing where one of the big name leading heroes bites the dust very early on in the film, this was actually quite surprising at the time as you would have never suspected Seagal to die...at least not so early! As it stands this one 'action' in the film gives it real bite above so many others as you really are not so sure what will happen next and who will get blown away. Obviously Russell won't kick the bucket, that you can put money on but the tension in this film is still feverish as you watch, even after all this time it still holds its own and packs a good solid punch. The plot revolving around Muslim terrorists taking over a passenger airliner with the aim of using it as a weapon of destruction is quite close to the bone these days after all the horrific things that have happened since this film was made, this does make you think and actually makes the film quite haunting and more realistic. As it goes the film is pretty darn realistic anyway, the special forces unit all proceed in a believeable way, at no point is this film a shoot em up, its actually pretty tight and well thought out. The inner plane sets, aerial shots and bomb sequences all work really well and look good, looking at this film from the posters you would think its a mindless action fest but that is far from the truth, it really is a very good well made thriller. Add to this a top notch cast with quite a few big names including Platt and Leguizamo in very likeable roles, Berry on ultra cute form and top British thesp David Suchet showing us that he's actually a really good movie actor as well as TV drama star and gives Rickman a run for his money as top well spoken villain.
Phil Hubbs
Super Reviewer
Executive Decision Quotes
There are no approved quotes yet for this movie.