Evil Things
(2009)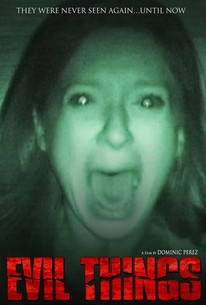 AUDIENCE SCORE
Critic Consensus: No consensus yet.
Movie Info
Five college students leave New York City to celebrate a birthday in the country, but find the party cut short when they encounter an unimaginable evil. Miriam (Elyssa Mersdorf) is turning 21. With the keys to her aunt's remote vacation home secured, she invites her friends Cassy (Laurel Casillo), Mark (Morgan Hooper), Tanya (Torry Weiss) and Leo (Ryan Maslyn) out to the country to help ring in the big day. As soon as the group gets out of the city, however, a snowstorm blows in and a mysterious van keeps appearing in their rearview mirror. Eventually, Miram and her friends reach their destination, with shutterbug film student Leo documenting the journey for prosperity. The following morning the countryside is covered in snow, and the friends set out to explore some local caves. Panic starts to set in, however, when the group loses their way, night falls, and strange sounds emanate from the surrounding woods. When the cabin appears in the distance, everyone things they're home free. But the moment they come in from the cold, the real terror begins. ~ Jason Buchanan, Rovi
Critic Reviews for Evil Things
There are no critic reviews yet for Evil Things. Keep checking Rotten Tomatoes for updates!
Audience Reviews for Evil Things
There's a problem with Evil Things: It's not scary. Even though it was done on a small budget, something could have happened to make Evil Things feel like a horror movie. Evil Things starts slowly and keeps going at a tediously slow pace. They seem to think a van driving like an idiot is scary. Where doesn't that happen? Without any real build to being a scary movie, the end is totally ineffective, and has the audience to the point where they're just ready to be done with the movie. They tried to take a bunch of scenes from other "found footage" movies, including putting the group in the woods ala Blair Witch, but it's done poorly and is just another way to stretch things out. There is exactly one scene that may freak you out, but it's blunted by no follow-through and a flat ending. We didn't get to see most of the murders, or the end result of said killings, and it all happened within a couple of minutes. The actors are inexperienced, but they're also working with nothing. Who knows how well they could have done. Most of them did OK for the found footage type film. Dominic Perez is the writer/director/producer. He hasn't done anything before or since. No surprise there. There's no reason at all to watch Evil Things, unless you like horror movies without the scares.
Jason Cenzano
Super Reviewer
Evil Things Quotes
There are no approved quotes yet for this movie.