Everyone Says I Love You
(1996)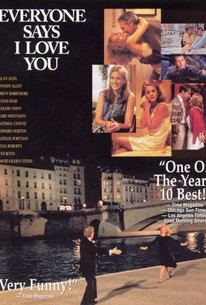 TOMATOMETER
AUDIENCE SCORE
Critic Consensus: A likable, infectious musical, Woody Allen's Everyone Says I Love You is sometimes uneven but always toe-tapping and fun.
Everyone Says I Love You Photos
Movie Info
Featuring a soundtrack filled with beloved "standard" songs such as "Just You, Just Me" and "My Baby Just Cares for Me," this musical comedy by Woody Allen concerns a polite and comfortably well-off group of people and their romantic difficulties. DJ (Natasha Lyonne), who narrates the picture, is the daughter of divorced couple Steffi (Goldie Hawn) and Joe (Woody Allen). Since the break-up, Steffi has married Bob (Alan Alda); their children, DJ's half-sister and half-brother, are Skyler (Drew Barrymore) and Scott (Lukas Haas). Skyler is about to be married to a likeable chap named Holden (Edward Norton). However, her mother Steffi, a wealthy liberal, cultivates people as "projects." Her latest project is ex-con Charles (Tim Roth), an extremely rude and crude customer. At family gatherings, everyone politely ignores his lapses in manners and good taste until Skyler postpones her wedding to have an affair with him. In a parallel storyline, we see that DJ is convinced that her unremarried dad would find a perfect mate in Von (Julia Roberts), and she contrives an elaborate (and successful) scheme to bring them together. In a fashion typical of '30s musicals, this movie completely transcends its fluffy story, using a cavalcade of ballads to send the characters on a chaotic, romantic merry-go-round from New York to Paris. ~ Clarke Fountain, Rovi
News & Interviews for Everyone Says I Love You
Critic Reviews for Everyone Says I Love You
Audience Reviews for Everyone Says I Love You
In 1996, Woody Allen decided to write and direct his first musical comedy, which happens to be this overwhelmingly charming piece of work. Set across New York, Paris, and Venice, this is a look at a large group of comfortably well off people and their various romantic endeavors, both successful and otherwise. Taking a different approach compared to a lot of musicals, Allen decided to take the approach of common people just randomly breaking into song and (sometimes) dance numbers. As a result, most of the cast do their own singing, with the exception being Drew Barrymore who convinced Allen she had no musical ability whatsoever. Apparently Goldie Hawn may have been dubbed as well, supposedly because Allen told her that her singing was too good, and she should sing worse, as she sounded too good to seem like like a regular person breaking into song. Having some musical training myself, I must say, the cast do a good job. Alan Alda and Edward Norton are pretty terrific, Tim Roth is surprisingly decent, and everyone else proves moderately passable at the very least. And there is a star studded cast here. Aisde from who I've already mentioned, there's also Woody himself, Natasha Lyonne, Julia Roberts, Gaby Hoffmann, Natalie Portman, lukas Haas, and, very briefly, Liv Tyler and Billy Crudup. If there's anyone I missed, I'm sorry. The performances in general are fine, pretty much what you'd expect from this kind of thing. The story and style are typical of Woody, but, having it be a musical elevates the proceedings. The song and dance numbers are well staged and executed, especially the final dance, and, in general, this is a very funny, fun, and charming film that is really kinda hard to dislike. In the grand scheme of things, this isn't, by and large, a standout entry of Woody's filmography, but there's just something about it that I found to be really irresistible, so yeah, give it a watch.
Chris Weber
Super Reviewer
½
Liked it more than I expected to. For a Woody Allen movie, this was pretty good. A lot of stars in it who were up and coming at the time like a young Natalie Portman and Natasha Lyonne (actually reminded me what a good actress she actually is). Drew Barrymore also stars, though it's not a huge role, same with Julia Roberts. I didn't even mind the singing too much, though most of it is pretty bad in all honesty. A few laughs and nice scenery. Couldn't really have asked for more here!
Nicki Marie
Super Reviewer
½
A bunch of actors you never thought you'd hear sing, get together to do a Woody Allen musical? That just sounds horrible, but I wanted to see Barrymore anyway, so I watched this movie. I don't know why, but I hate Allen's movies, they're not funny, and this is no exception. It was plain torture to watch.
Everyone Says I Love You Quotes
There are no approved quotes yet for this movie.