Every Day
(2011)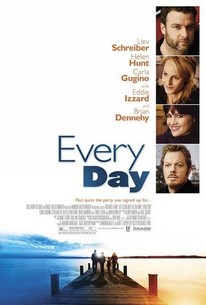 Movie Info
Helen Hunt, Liev Schreiber, Brian Dennehy, Eddie Izzard and Carla Gugino star in EVERY DAY, a story about a family's struggle to survive life's curve-balls that ultimately bring out the best and worst in us and make us closer. Ned is a television writer on a seedy drama whose life is turned upside down when his wife's estranged father moves in with their family. EVERY DAY is an honest look at an ordinary family making it through life's challenges together. --© Official Site
News & Interviews for Every Day
Critic Reviews for Every Day
Audience Reviews for Every Day
This film took me by surprise. From the trailer, I wasn't expecting much. However, I was very delighted from beginning to end with this film. Everyone is well cast and they all shine. It reminded me a little bit of the movie, City Island. On a negative it is a little predictable, but that didn't bother me here. I definitely recommend this film.
"I really liked this movie. It deals with some hard issues with difficulties of marriage, a sons sexuality, and a harsh father whose deteriorating. I really like Ezra Miller. I think he's a great young actor. Brian Dennehy was great in this. Oh how I have missed Helen Hunt. I think she's fantastic. She's really good in this. Liev Schreiber was really good here too. Ok, obviously what I'm getting to is that the performances were great. The story is really good. I, like others, have a hard time understanding why this film got such low ratings. I thought it was a great indie flick. Has it been done before? Yes. But the difference between this flick and ones before it, is the actors. They make the movie. They make the story relatable and realistic. This is someones life in one way or another. We all struggle with one or more of these issues. See it if you get a chance."
♥˩ƳИИ ƜѲѲƉƧ♥
Super Reviewer
I'm not sure why this movie has such a low rating. This movie had a really good cast, was really well done, and I found the storyline interesting. This movie is, in a word, real. Real life issues. Real life dialog. I was never once bored, and I found myself enthralled in their lives. Good movie...
Cynthia S.
Super Reviewer
Every Day Quotes
There are no approved quotes yet for this movie.