Everest
(2015)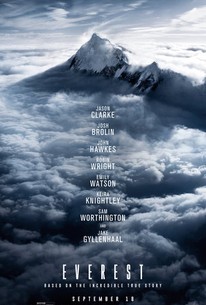 TOMATOMETER
AUDIENCE SCORE
Critic Consensus: Everest boasts all the dizzying cinematography a person could hope to get out a movie about mountain climbers, even if it's content to tread less challenging narrative terrain.
Movie Info
2 Guns helmer Baltasar Kormakur directs Jake Gyllenhaal, Josh Brolin, Jason Clarke, and John Hawkes in this adventure docudrama set in 1996, when a number of simultaneous expeditions up Mount Everest resulted in the deaths of eight climbers. ~ Jason Buchanan, Rovi
News & Interviews for Everest
Critic Reviews for Everest
Audience Reviews for Everest
Probably the closest you will ever get to climbing Mount Everest without actually having to do it. A chilling, breathtakingly filmed survival thriller that follows the actual events of the 1996 expedition catastrophe pretty closely, relying on a strong cast and unforgettable, dizzying images.
Based on a true story, Everest is a captivating drama about one of the deadliest disasters that occurred on Mount Everest. The story follows experienced mountain guide Robert Hall as he trains and leads an expedition up to the summit of Mount Everest, but a series of misfortunes and severe weather leaves several climbers stranded and forced to fight for their lives as rescue attempts to get to them before they suffocate or freeze to death. Featuring an all-star cast that includes Jason Clarke, Josh Brolin, Sam Worthington, Keira Knightley, Emily Watson, and Jake Gyllenhaal, the performances are extraordinarily good. And director Baltasar Kormakur does an incredible job at capturing the size and scope of the mountain, along with its dangers. However, the film has some problems keeping track of where the characters are, both relative to each other and the mountain at large. Yet despite a few storytelling issues, Everest is a compelling film about man's determination to overcome impossible odds and will to survive.
Dann Michalski
Super Reviewer
Everest is a rather simple tale about a quest that ended in tragedy. It's an old fashioned rip roaring adventure ideally suited to the big screen. Early theater engagements were shown exclusively in IMAX 3D. The attributes of those formats serve this subject well. The visual splendor is beautifully conveyed. Sweeping vistas and aerial photography convey a sense of grandeur. One dizzy overhead shot above a high suspension bridge triggers feelings of acrophobia. This is a saga where nature is the enemy. A grueling storm, frostbite, blindless and the wind all threaten the safety of our courageous explorers. I am neither an experienced mountaineer nor was I present on the actual expedition. Therefore I am not here to vouch for the authenticity of facts of the sport or what really happened. What I am is a film critic, and I can say that Everest absolutely delivers thrilling entertainment. fastfilmreviews.com
Mark Hobin
Super Reviewer
Everest Quotes
There are no approved quotes yet for this movie.