Event Horizon
(1997)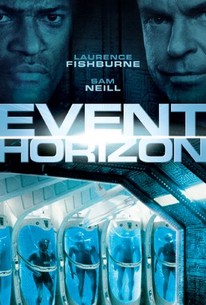 TOMATOMETER
AUDIENCE SCORE
Critic Consensus: Despite a strong opening that promises sci-fi thrills, Event Horizon quickly devolves into an exercise of style over substance whose flashy effects and gratuitous gore fail to mask its overreliance on horror clichés.
Movie Info
In this sci-fi/horror scarefest, Dr. William Weir (Sam Neill) is a scientist who has designed a spacecraft called Event Horizon which will explore the outer reaches of space past the planet Neptune; the ship employs a special transport mechanism that, in effect, creates a black hole that the ship can pass through, allowing it to travel tremendous distances in a few seconds. The Event Horizon mysteriously disappears in the midst of a mission with no trace of either the ship or its crew, but it reappears in Neptune's orbit after a seven year absence and it's sending out a distress signal. The spaceship Lewis and Clark, and Dr. Weir, are sent to investigate; the crew -- Captain Miller (Laurence Fishburne), pilot Smith (Sean Pertwee), engineer Justin (Jack Noseworthy), navigator Starck (Joely Richardson), physician D.J. (Jason Isaacs), and emergency technicians Peters (Kathleen Quinlan) and Cooper (Richard T. Jones) -- are already tired and unenthusiastic about this assignment, and somewhat confused by Weir's reports. The crew of the Lewis and Clark are convinced that Weir is not telling them something, and when they discover the Event Horizon, they find that things are not what they seem, and an evil presence has taken over the ship. Incidentally, the term "event horizon" describes the outer boundaries of a black hole.
News & Interviews for Event Horizon
Critic Reviews for Event Horizon
Audience Reviews for Event Horizon
A great sci-fi horror flick (essentially a haunted house movie in space with a little bit of Hellraiser) that was sadly under-appreciated when it first came out. Paul W.S. Anderson (in a rare moment of creative inspiration) does a great job of keeping up a great tense atmosphere and the practical effects are superb (although instances of CGI in the movie are one of the few weak points). There are plenty of great tense sequences, effective jump scares, and absolutely messed-up imagery. The acting isn't too bad either, actually the quality of the acting goes a long way in selling the plot. Sam Niell and Laurence Fishburne really shine in this but the rest of the supporting cast are solid too, especially Sean Pertwee. If you love sci-fi and horror, then check it out!
Christopher Heim
Super Reviewer
A lousy and unimaginative mix of Solaris, 2001: A Space Odyssey, Alien, The Shining, Hellraiser and more - and if being a ragbag like this doesn't give you an idea of the disaster that could only come from it, the cheap, loud scares and Anderson's awful direction are definite proof.
Carlos Magalhães
Super Reviewer
Boo! In space. No, wait, it's all in yer mind. Oy. Disappointing.
Kevin M. Williams
Super Reviewer
Event Horizon Quotes
There are no approved quotes yet for this movie.