Even the Rain (Meme La Pluie)
(2011)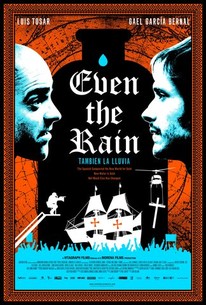 Even the Rain (Meme La Pluie) Photos
Movie Info
TAMBIEN LA LLUVIA sets up an intriguing dialogue about Spanish imperialism through incidents taking place some 500 years apart, while examining the personal belief systems of the members of a film crew headed by director Sebastian (Gael Garcia Bernal) and his producer Costa (Luis Tosar) who arrive in Bolivia to make a revisionist film about the conquest of Latin America. Set in February and March of 2000 when real-life protests against the privatization of water rocked the nation, the film reflexively blurs the line between fiction and reality in what Variety calls "a powerful, richly layered indictment of the plight of Latin America's dispossessed." Carlos Aduviri is dynamic as a local who is cast as a 15th century native in the film, but when the make-up and loin cloth come off, he sails into action protesting his community's deprivation of water at the hands of the government. Meanwhile, Gael Garcia Bernal's Idealist film director is as relentless as Werner Herzog infamously was in making FITZCARALDO, pushing ahead against all odds, ignoring the prevailing danger about to disrupt at any moment. Despite the devastation emerging around him, Sebastian seems unable to engage with any emotion over than a dogmatic desire to get his film done. And of course, the film also recalls themes in Herzog's AGUIRRE, THE WRATH OF GOD and the film-within-a-film scenes are as brutal as any in APOCALYPTO. -- (C) Official Site
News & Interviews for Even the Rain (Meme La Pluie)
Critic Reviews for Even the Rain (Meme La Pluie)
Audience Reviews for Even the Rain (Meme La Pluie)
An intriguing Spanish drama that raises many complex questions about morality with well-constructed characters who have solid motivations for their actions, and the plot makes some curious parallels between the early colonization of America and modern-day imperialism.
Carlos Magalhães
Super Reviewer
½
I don't think I have a lot to say about the movie really, it's quite self-explanatory but it is a very good film. I think it manages to tell an effective story with emotional depth without being overtly preachy. I actually thought the movie was definitely going to be preachier than it ended up being. Of course, and this is apparent as you watch the movie, is that the movie's characters talk about the injustices the Bolivians face when they're paid $2 per day for the work they do and how they're expected to pay for the water that is, in turn, going to be increased about 300%. You wonder *how* much exactly did the extras in the movie actually get paid. I hope they got more than a decent pay-off because then the movie is simply just doing the same thing that the film's message is so strongly against. Still that doesn't mean it isn't a very good movie with some strong performance, particularly from Luis Tosar who does a great job at transforming his character throughout the film. The rest of the cast is also very good. The movie also does a great job at, near the end, just making everything look like complete chaos. As this is based, at least the protests against the privatization of water, they had a lot of real footage from the riots, and it's definitely powerful stuff. Overall a very good movie, with maybe some hints of hypocrisy, but still a movie that's worth watching.
Jesse Ortega
Super Reviewer
½
On location for a film shoot in Bolivia, Sebastian(Gael Garcia Bernal), the director, arranges for an open call which brings out a very long line of applicants which ends up driving his producer Costa(Luis Tosar) to chocolate. At first, Sebastian agrees to compromise before going ahead and seeing everybody, anyway. Of particular interest is Daniel(Juan Carlos Aduviri) and his daughter Belen(Milena Soliz) which still does not make Costa happy until he sees a screen test of Daniel in full makeup. That's not the only local point of interest, as Maria(Cassandra Ciangherotti), a videographer assigned to the production, stumbles across some of the locals fighting for water rights. Written by Paul Laverty and dedicated to the memory of Howard Zinn, "Even the Rain" is a superb movie that has done a powerful job of linking Columbus' voyages to America, as seen through the eyes of Montesinos(Raul Arevalo), a Spanish monk who was sympathetic to the natives, to the recent Water Wars of Bolivia, showing the continuation of the exploitation in Year 508, as Noam Chomsky would put it, with the novel device of using a film production as background. Yes, Daniel does not need to say there are more important things than making a film but it is a worthy sentiment nonetheless. The movie also works on a personal level, detailing the loneliness of the long distance actor, via Anton's(Karra Elejalde) drinking, as one cannot be in one place for very long without being affected somehow. And I know Gael Garcia Bernal is supposed to be the star here but it is Luis Tosar who steals the show with his observational gaze.
Even the Rain (Meme La Pluie) Quotes
There are no approved quotes yet for this movie.