The Even Stevens Movie
(2003)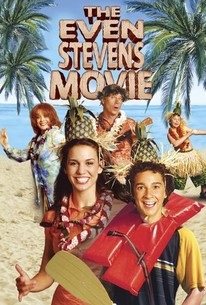 The Even Stevens Movie Photos
Movie Info
Based on the popular (and recently canceled) Disney Channel sitcom Even Stevens, this made-for-TV movie was filmed in 2002 under the title The Stevens Get Even. On this occasion, the Sacramento-based Stevens family is reeling from a succession of setbacks, not least of which is the breakup of the romance between teenaged daughter Ren Stevens (Christy Romano) and her boyfriend -- a disaster largely brought about when Ren's pesky kid brother, Louis (Shia LaBeouf), sabotages Ren's junior-high graduation. At their most vulnerable, the kids' parents Eileen (Donna Pescow) and Steve (Tom Virtue) are highly receptive to fast-talking vacation agent Miles McDermott (Tim Meadows), who sells the family an inexpensive trip to an island paradise. En route, the Stevens' plane crashes on a seemingly uncharted isle, forcing the family, and the other passengers, to fend for themselves. What nobody but the duplicitous McDermott knows is that the crash was carefully rigged, so that the Stevens would be unwitting contestants on a Survivor-like TV reality series. In addition to the aforementioned Romano, LaBeouf, Pescow, and Tom Virtue, other carryovers from the original sitcom include Nick Spano as Donnie Stevens and Steven Anthony Lawrence as the family's wacky next-door neighbor, Beans. Filmed on location in Hawaii, The Even Stevens Movie made its Disney Channel debut on June 13, 2003.
Critic Reviews for The Even Stevens Movie
Audience Reviews for The Even Stevens Movie
Blah. As a kid, I loved the show. As an adult, I hated this movie. I don't know why.. just not my cup of tea. Grade: F
Matt Goodman
Super Reviewer
½
A fun continuation of the show, yet it was not really where it should have been. It's more of a vacation movie than a family sit com. While there's nothing wrong with that, I was too invested with the characters to have it end this way. However, I can't say that I didn't laugh or enjoy Lewis destroying native island traditions.
Conner Rainwater
Super Reviewer
½
ive always been a fan of even stevens and the film wasnt a let down but you have to keep in mind that it is a childish film but it is good
Film Crazy
Super Reviewer
The Even Stevens Movie Quotes
There are no approved quotes yet for this movie.