Escape Plan
(2013)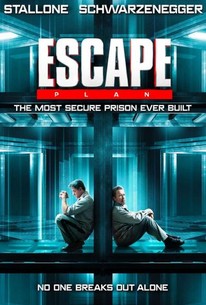 TOMATOMETER
AUDIENCE SCORE
Critic Consensus: As much fun as it is to see Sylvester Stallone and Arnold Schwarzenegger team up onscreen, Escape Plan fails to offer much more than a pale imitation of 1980s popcorn thrills.
Movie Info
One of the world's foremost authorities on structural security agrees to take on one last job: breaking out of an ultra-secret, high-tech facility called "The Tomb." Deceived and wrongly imprisoned, Ray Breslin (Sylvester Stallone) must recruit fellow inmate Emil Rottmayer (Arnold Schwarzenegger) to help devise a daring, nearly impossible plan to escape from the most protected and fortified prison ever built. ESCAPE PLAN is the first pairing of action legends Sylvester Stallone and Arnold Schwarzenegger in leading roles, and co-stars Jim Caviezel, Curtis "50 Cent" Jackson, Vinnie Jones, Vincent D'Onofrio and Amy Ryan. (c) Summit
News & Interviews for Escape Plan
Critic Reviews for Escape Plan
Audience Reviews for Escape Plan
The beginning and the first breakout is actually rather fun. But soon we know exactly what will happen: Breakout tester Stallone gets screwed over and ends up in the proverbial unbreakable jail. His team-up with Schwarzenegger there is surprisingly unspectacular. It doesn't help that the plot relies on a lot of coincidence, suspension of disbelief or horrid planning by the bad guys. The action packed finale can't really pull the ship around. I fear it's time to phase the fact that you get better results watching reruns from the former action stars.
The Tomb becomes a place of interest in Mikael Hafstrom's Escape Plan.
Spending most of its 110 minute run time in a prison, the film takes advantage of an intriguing story to keep the momentum going. The game of cat and mouse that takes place for most of the film, but unfortunately not all, is what makes Escape Plan as good as it is. It is the final act where, despite a solid plot twist, things turn into a run of the mill action piece.
When it comes to the violence and action, there isn't a much to be cringe-worthy about. Sure, bullets do fly; however, the strong language contributes just as much to the R-rating.
It's hard to be disappointed with Sylvester Stallone and Arnold Schwarzenegger heading the picture; and there isn't much to be disappointed about because they deliver as expected. Both are locked up by a warden to despise, played by Jim Caviezel. Sam Neill should be disappointed with the character he is given.
Escape Plan starts off with its own identity. It just doesn't finish with one.
½
2 3/4's--Putting Sly, and Arnold, together in a film is ALWAYS a good idea, in my book. However, not in this film. It was way too long, and loses steam in the second half. The dialogue was almost laughable. Plus, it didn't help when Arnold just went commando towards the end. Shame, as this could have been really good had they put a little more effort into it.
Cynthia S.
Super Reviewer
Escape Plan Quotes
There are no approved quotes yet for this movie.