Escanaba in da Moonlight
(2000)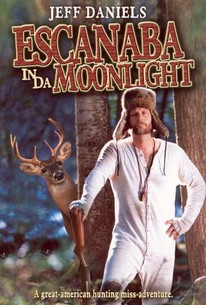 Escanaba in da Moonlight Photos
Movie Info
The first day of deer hunting season may be a rite of passage for many hunters across the Midwest, but nowhere more so than in the small Michigan town of Escanaba -- or so this comedy from writer/director/star Jeff Daniels would have you believe. Daniels plays Rueben Soady, a dim hunter slouching through middle age, ostracized by the men in his family for his annual inability to "bag a buck." Rueben's venison envy reaches a fever pitch on the eve of hunting season, when he joins his father Albert (Fargo's Harve Presnell) and his brother Remnar (Joey Albright) at the family cabin for their yearly, alcohol-soaked ritual of tall tales and one-upmanship. Rueben is determined to make this year different, however, whether by means of ingesting a heady, Native American good-luck potion or dousing himself in porcupine urine in order to attract a stag or two. Otherworldly forces conspire to keep the Soady men from achieving their goals, however: Soon after they set up camp, they're plagued by blinding lights and hallucinogenic visions, imparted to them -- presumably -- by UFOs. When a babbling, traumatized park ranger (Randall Godwin) arrives on their doorstep, the Soadys know that their evening is about to become stranger still, and Rueben's hopes of living down his reputation as a "buckless" man are all but dashed. The first effort from Daniels' Purple Rose Films company, the independently produced and distributed Escanaba is based upon a stage play that premiered at the actor's Purple Rose Theater in Chelsea, MI, before touring various venues in the Midwest.
Critic Reviews for Escanaba in da Moonlight
Audience Reviews for Escanaba in da Moonlight
½
It might not be necesaary to be familiar with the Upper Peninsula of Michigan where "Escanaba in Da Moonlight" is set to enjoy the movie's offbeat charms but it couldn't hurt. For example, you don't have to have eaten a pasty before, except that you are missing something delicious.(The last one I had was a few years ago, just south of The Bridge.) But you should know at least about the fishing and hunting(plenty of the former when I was a kid but none of the latter thankfully) there. So, you might understand the plight of Rueben Soady(Jeff Daniels, who also wrote and directed), having never shot a buck in his 43 years much to his personal and familial embarrassment. In fact, his wife, Wolf Moon Dance(Kimberly Guerrero), has always been a much better hunter but is not invited along to the annual hunting lodge. Who are invited are Rueben's dad, Albert(Harve Presnell), and brother, Remnar(Joey Albright), and a lot of whiskey. Jimmer(Wayne David Parker), who reportedly had his brain scrambled by extraterrestrials and not alcohol, makes a sudden appearance.(For some odd reason, I have no problem with the belief that the Upper Peninsula is haunted by UFO's.) In the end, lessons are learned, like if you are a buck, never get too close to an outhouse. And regardless of what species you are, never name your son Remnar.
A 42-year old man must bag a buck during this year's deer season or he'll be the oldest male in the history of his family never to have done so; with the help of a potion and porcupine urine supplied by his Native American wife, he goes on a vision quest and finds God as well as a ten pointer. Set in the upper Michigan peninsula, the movie tries too hard to get laughs out of the local dialect and customs; star/writer/director Jeff Daniels has a ton of ideas, but unfortunately most of them don't work out.
Escanaba in da Moonlight Quotes
There are no approved quotes yet for this movie.