Eros
(2004)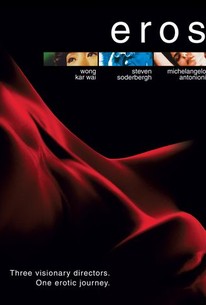 Movie Info
Three of the world's most gifted filmmakers offer their own unique perspectives on love and lust in this omnibus film. The initial episode, "The Hand," was directed by Wong Kar-Wai, and tells the story of Zhang (Chang Chen), a young, virginal dressmaker's assistant who finds it difficult to control his desire when he is sent to the home of Hua (Gong Li), a beautiful and refined prostitute, for a fitting. Steven Soderbergh directed the film's second story, "Equilibrium," in which Nick Penrose (Robert Downey Jr.) spends a session with his analyst (Alan Arkin) discussing a recurring dream of a beautiful naked woman in his apartment, but he keeps wandering off on tangents about alarm clocks and hair loss. Finally, Italian virtuoso Michelangelo Antonioni brings his short story The Dangerous Thread of Things to the screen, a story of a jaded couple, Christopher (Christopher Buchholz) and Chloë (Regina Nemni), whose relationship comes to a crossroads when both husband and wife become infatuated with the same woman, Linda (Luisa Ranieri).
Audience Reviews for Eros
Both Steven Soderbergh's and Michaelangelo Antonioni's segments are very interesting and for the most part flawless, but I really wasn't taken with Kar Wai Wong's. The first segment is just so repetative and drawn out for no reason, especially when the love story isn't even powerful. However, Robert Downey Jr. and Alan Arkin make up for it ten fold in a truly funny and powerful therapist session. I liked the b&w vs. color transition, it made the story feel all the more dreamlike. The relationship analysis in Antonioni's final segment is really a unique type of film making. It's not simplistic in its message, but the minimalistic visuals really put you in a unique mood.
Conner Rainwater
Super Reviewer
½
The Hand & The Equilibrium were good, But I didn't like Antonioni's The Dangerous Thread Of Things
½
The only thing that brings the film down is Antonioni's very weak segment.
Eros Quotes
There are no approved quotes yet for this movie.