Entrusted
(2003)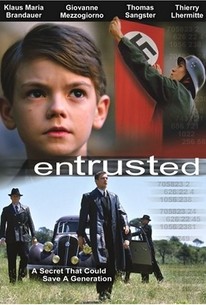 AUDIENCE SCORE
Critic Consensus: No consensus yet.
Movie Info
Hoping to entrap Maria von Gall who runs a courageous underground railroadfor Jews in France, the Nazis kidnap her son Thomas, a brilliant 11 year-old chessplayer. An exchange goes awry and he sees his mother die in a hail of bullets. He isrescued by his American father who he has never met before, and who plans to fleewith him to Spain. However, Maria had entrusted her little pawn, Thomas, with aprecious secret and a terrifying mission. A pawn may become an important piece byslowly advancing through the enemy's ranks. Or a pawn may die trying. But a pawn cannever retreat.
Critic Reviews for Entrusted
There are no critic reviews yet for Entrusted. Keep checking Rotten Tomatoes for updates!
Audience Reviews for Entrusted
"Is God the Author of Evil? In this question, St. Augustin begins his dialogue on free will.... he finds no answer. --- Marquis de Sade sneeringly replies that evil is essential to the vicious organization of this Universe."
The story takes you to Munich, Germany, where Von Gall Sr. is being tortured by a Nazi officer. The Nazis are trying to extract the access codes of several Swiss bank accounts from this man, which were being used to fund the underground resistance to help Jews escape and start over.
A pretty gripping movie with a superb cast! Brutality and sadism, gentleness and innocence, chess in a time of war, I thought the story was extremely amazing! It had me glued to the screen waiting in anticipation on whats going to happen next, there were a lot of heart pinching scenes, and a lot of eye candy from the sets to the actors, it was all well drawn, but maybe they overdid some of the sets?
Thomas Sansgard is one brilliant actor! Ive seen him in Hitler: Rise of Evil (among the list of kiddie and non-kiddie films hes been in) and Im definitely looking forward to watching more of his movies! --- Oh, and one of the villains in this movie is.. tortuously, maddeningly sexy! :P'
Based on the novel "Daddy", by Loup Durand.
Director: Giacomo Battiato
Genre: Thriller, WWII, Drama


Entrusted Quotes
There are no approved quotes yet for this movie.