Entrapment
(1999)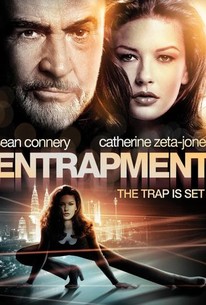 Movie Info
Robert Mac MacDougal has an untarnished reputation as the world's greatest art thief. So when a priceless Rembrant is stolen in New York, the evidence points to Mac. Insurance investigator Gin Baker persuades her boss, whose company will lose $24 million on the theft, to let her go after the master criminal. The strong-willed and resourceful Gin has to entrap Mac, but he proves even more elusive and crafty than she expected. While engaging in an electric pas de deux of wariness and attraction, Mac and Gin form an edgy partnership that takes them from London, via the Western Isles of Scotland, to Kuala Lumpur, the high-tech capital of Malaysia. Together they come up with a daring plan for a multi-billion dollar-heist tied to the dawn of a new millennium...
News & Interviews for Entrapment
Critic Reviews for Entrapment
Audience Reviews for Entrapment
½
[img]http://images.rottentomatoes.com/images/user/icons/icon13.gif[/img] I'm usually on for insane heist films but the below average non sensical lackluster Entrapment is a huge mess in all of the wrong ways. Firstly, the muzzled plot destroys any chance of chemistry between Connery and Zeta Jones which should have been the main priority as opposed to slickness and style, but unfortunately it doesn't grow to have that either. The characters go entirely undeveloped because of the cliched script and although it has a few inspired action sequences the result is something dark, ludicrious, boring and unexpectedly dull.
Directors Cat
Super Reviewer
As far as heist films are concerned, Entrapment is often overlooked and it's no surprise as to why. The film has a mood of overbearing cliches thats been done a hundred time before. Done better too. But theres a strange appeal to this film that just makes it a passable heist/action film. Sean Connery delivers a memorable good performance (one of his last actually good performances, after this he went downhill before retirement). Entrapment is pure popcorn action film. The film is not meant to be perfect by any means. The film is pure entertainment. Despite the somewhat cliched formula, I thought it was still an interesting idea for a film. The acting is good, the suspense is there and the action is top notch. Obviously the reason this film has gotten so much praise is because of Catherine Zeta-Jones famous ass shot. In almost ever review, reviewers everywhere has praised the famous scene. I'll admit the scene is very sexy and all, but you shouldn't judge a film because of that scene alone. Theres plenty of things aside from the laser scene to enjoy. Entrapment is a film that will surely appeal to heist fans, despite its slightly cliched plot. The film does have enough thrills to appeal to anyone who enjoys a good action yarn, and if you're looking for a terrific Sean Connery performance, Entrapment is one of his last good films. Of course it's not his best film, but it certainly isn't his worst. An entertaining good time and an absolute blast.
great flick, put zeta jones on the map
Entrapment Quotes
There are no approved quotes yet for this movie.