End of the Game (Der Richter und sein Henker) (The Judge and His Hangman)
(1975)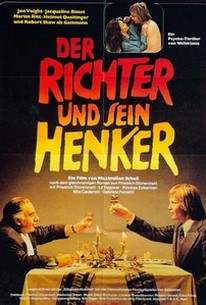 Movie Info
In this existentialist crime story, Swiss police inspector Hans Barlach has spent 30 years trying to pin the murder of the woman he loved on industrialist Richard Gastman. When Barlach's assistant is killed while trying to get the goods on Gastman, the inspector puts detective Walter Tschantz on the case.
Critic Reviews for End of the Game (Der Richter und sein Henker) (The Judge and His Hangman)
Audience Reviews for End of the Game (Der Richter und sein Henker) (The Judge and His Hangman)
½
Peculiar crime mystery/thriller in which the motivations of a couple key characters are inscrutable. Martin Ritt, director of Hud and Norma Rae, is terrific turning actor here as ailing police chief in rural Switzerland, and he recruits the sharp-minded but erratic Jon Voight to assist in solving the murder of a decorated detective. The scenes between the two of them constitute the best parts of the film. Robert Shaw makes a pretty good nemesis for Ritt dating back 40 years, but Jacqueline Bisset seems rather flat as the murdered policeman's girlfriend. A satisfactory solution to the case (except no explanation for the two bullets??) doesn't wholly make up for the strange, aimless inclusions like the evening party and the cheetah in the unfinished room.
Doctor Strangeblog
Super Reviewer
½
[font=Century Gothic]"End of the Game" starts with the body of police detective Robert Schmied(Donald Sutherland) being discovered in his car. Schmied was the assistant of Commissioner Baerlach(Martin Ritt) who takes over the case despite his failing health, recruiting Walter Tschanz(Jon Voight) to be his new assistant. Their investigatilon leads them to a wealthy businessman, Richard Gastmann(Robert Shaw), who shares a secret with Baerlach.[/font] [font=Century Gothic]Directed by Maximilian Schell, "End of the Game" is an uneven movie that squanders a very interesting premise. On the one hand, there is the chess-like plot, thoughts about free will and Martin Ritt enjoying himself playing a wily codger.(He has great chemistry with Robert Shaw but there is not enough of Shaw to go around.) But some scenes run on too long, especially the ones between Jon Voight and Jacqueline Bisset. Also hurting the movie are inadequate staging, disparate accents and Jon Voight's bizarre performance.[/font]
End of the Game (Der Richter und sein Henker) (The Judge and His Hangman) Quotes
There are no approved quotes yet for this movie.