Enchanted April
(1992)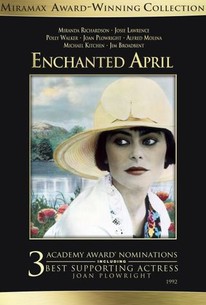 TOMATOMETER
AUDIENCE SCORE
Critic Consensus: Mike Newell's adaptation of Elizabeth von Arnim's moves at a more generous pace than the 1935 version, allowing excellent performances from Miranda Richardson and Joan Plowright to flourish.
Movie Info
Previously filmed in 1935 with Ann Harding, Enchanted April, a romantic novel by Elizabeth, was remade in 1992. The first film skips along superficially at 66 minutes: the second, directed by the always intriguing Mike Newell, runs 101 minutes, allowing for richer characterizations and a bottomless reserve of brilliant dialogue. Two cloistered, married English women (Josie Lawrence, Miranda Richardson) impulsively rent an Italian villa and embark upon a vacation without their spouses. They are joined by two other ladies: the high-flown aging widow Joan Plowright, and elegant upper-crust beauty Polly Walker) whom they've never met. Under the spell of an exotic new location, the foursome are in for quite a few life-altering experiences, many of them amusing, and not a few very surprising. Impeccably accurate in its recreation of European manners and mores in the 1920s, Enchanted April is sheer bliss from fade-in to fade-out. ~ Hal Erickson, Rovi
Critic Reviews for Enchanted April
Audience Reviews for Enchanted April
½
American sensibilities usually go agog when it comes to English country homes and their varied inhabitants, which is why "Downton Abbey" is an iconoclast by itself. This film falls into the genre of hapless women alone in Italy and their various adventures. The so-called adventures of the women in this film are pathetic, short sighted, and at times disappointing. Two of these women are repressed, and depressed, housewives from the rumbling metropolis of London. They're friends, they both wish their husbands cared more about them, and both need to get away from the horrible, rainy weather. Their husbands include a politician and a ghost writer who goes off to parties and socializes with the toast of the city, at times flirting with infidelity. Both husbands are mercifully repulsive, but instead of the women getting away and eventually leaving them, the film celebrates women changing via a vacation to Italy in order to entice their significant others. The film loses any empathy by sticking to its source material ("The Enchanted April" by Elizabeth Von Armin), and pairs together the last remaining singles into couples at the end, just so it can be tied up in a little bow. Even the so-called enchanted countryside is barely shown except for some shots of wisteria and garden paths. Otherwise most of the film is shot within the confines of the Italian castle, also not all that grand. A film's beatific setting can often enchant when the characters do not, but there isn't even a hint of guilty pleasure surrounding this film. It doesn't have the wit of an Austen adaptation or the dramatic setting and tone of a Merchant/Ivory film. It simply lingers on the most boring elements of dialogue, and on characters that don't do anything. Even the surrounding characters, which include a widow who made friends of the elite in literature, a coaxing socialite, and the castle's owner, can't make this film compelling in any way. If you want to watch a bunch of flighty women fighting to be happy, this is for you, but otherwise it doesn't have merit.
Spencer S.
Super Reviewer
Four English ladies rent an Italian villa. The biggest surprise about Enchanted April is that it's not a Merchant/Ivory production. It has all the trappings of such a film with it's understated, often-quotidian conflicts and its focus on setting to provide thematic mood. It's A Room with a View. While I liked A Room with a View, I recognized that the quotidian conflicts don't always provide the matter for compelling drama; the same is true for Enchanted April. The performances by all the actresses are strong, but I was particularly "enchanted" by Polly Walker as the free-spirited Lady Caroline. Overall, if you like Merchant/Ivory's films, then you'll like this film because the differences between these films is negligible. The performances by all the actresses are
Jim Hunter
Super Reviewer
½
A period 'romantic comedy' with an amazing ensemble cast. Funny, romantic and a little magical. THe Italian countryside is GORGEOUS!
Enchanted April Quotes
There are no approved quotes yet for this movie.