Emperor
(2013)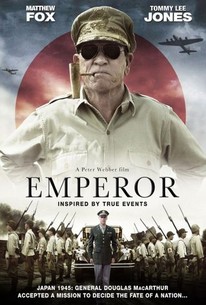 TOMATOMETER
AUDIENCE SCORE
Critic Consensus: Despite a typically strong performance from Tommy Lee Jones, Emperor does little with its fascinating historical palate, and is instead bogged down in a cliched romantic subplot.
Movie Info
Matthew Fox (WORLD WAR Z, I, ALEX CROSS, "Lost") joins with Academy Award (R) winner Tommy Lee Jones (LINCOLN, NO COUNTRY FOR OLD MEN, THE FUGITIVE, HOPE SPRINGS), newcomer Eriko Hatsune and award-winning Japanese star Toshiyuki Nishida (GET UP!, TSURIBAKA NISSHI 14, TSURIBAKA NISSHI 6, GAKKO, DUN-HUANG) to bring to life the American occupation of Japan in the perilous and unpredictable days just after Emperor Hirohito's World War II surrender. As General Douglas MacArthur (Jones) suddenly finds himself the de facto ruler of a foreign nation, he assigns an expert in Japanese culture - and psychological warfare - General Bonner Fellers (Fox), to covertly investigate the looming question hanging over the country: should the Japanese Emperor, worshiped by his people but accused of war crimes, be punished or saved? Caught between the high-wire political intrigue of his urgent mission and his own impassioned search for the mysterious school teacher (Hatsune) who first drew him to Japan, Fellers can be certain only that the tricky subterfuge about to play out will forever change the history of two nations and his heart. (c) Roadside Attractions
News & Interviews for Emperor
Critic Reviews for Emperor
Audience Reviews for Emperor
Emperor follows the events directly after the Second World War and the subsequent hunt and trials for war crimes during the war. The story is quite entertaining and well structured, but nearing the film's final, some aspects come apart a bit, and the film should have had a slightly better ending. I mean, the film has some very good performances, and it told a truly engrossing story. However, a part of me felt that the film could have been so much more as well. For me, Tommy Lee Jones as five star General Douglas MacArthur is well chosen for the part, and he makes the film worth seeing. I enjoyed the film, but like I said, near the end, it just kind of lingers on, as if they didn't know how to conclude it. Emperor really could have been a great movie, but it just doesn't become anything truly memorable. The cast are good here, and the story is quite good, but there are plenty of things to have been improved upon. Despite this, Emperor is not a bad film, and it's a bit underrated as well. Overall, with a good story and good performances, Emperor is one of those movies that is worth seeing if you enjoy a good war themed drama. But like I said, it could have been better, but for what we get, it's a good movie that never realizes its full potential. That's a shame because considering the subject matter; you'd expect a great film. This is good entertainment, but it does leave a bit to be desired, and it really should have something unique. To those expecting an elaborate drama, you'll be disappointed, as the film doesn't conclude in a way that is satisfactory. The film could have been terrific, but it doesn't go beyond good entertainment, instead of being an enthralling drama that it should have been.
½
Japan 1945: General Douglas MacArthur was given a mission to decide the fate of a nation, the guilt of a leader, and the true price of peace. Good Movie but boring Film! This movie provides a very good depiction of a historically significant event that is all but ignored in movies and text. Seamless transitions between history and entertainment, the cast of this movie (especially the Japanese ones) expertly capture the complexity of what is the Japanese culture and psyche during post WWII reconstruction. Tommy Lee Jones also does an amazing portrayal of MacArthur in copying his mannerisms and affect. This is a movie for people who appreciate historical context, attention to detail, and subtle references packaged with solid, proportioned acting. A story of love and understanding set amidst the tensions and uncertainties of the days immediately following the Japanese surrender at the end of World War II. On the staff of General Douglas MacArthur (Jones), the de facto ruler of Japan as Supreme Commander of the occupying forces, a leading Japanese expert, General Bonner Fellers (Fox) is charged with reaching a decision of historical importance: should Emperor Hirohito be tried and hanged as a war criminal? Interwoven is the story of Fellers' love affair with Aya, a Japanese exchange student he had met years previously in the U.S. Memories of Aya and his quest to find her in the ravaged post-war landscape help Fellers to discover both his wisdom and his humanity and enable him to come to the momentous decision that changed the course of history and the future of two nations.
½
Set in Occupied Japan in the immediate aftermath of World War II, this is the story of Brigadier General Bonner Fellers, who, at the urging of General Douglas MacArthur, is tasked with determining if Emperor Hirohito should be put on trial for war crimes or not. This is an interesting topic, and could have made for a great and fascinating film. However, any potential the film had is undercut by the inclusion of a cliched and unnecessary romantic subplot, as well as the fact that not a whole lot is really done with the material at hand. It's just a routine and by the numbers dry historical drama that tries to bring an important facet of history to life, but instead just kinda limps along and presents just the bare basics of what went down. I will say that the period details are admittedly well done, and the film has a nice look to it. It's just unfortunate that the film's occasional subtitle and title cards are done in a really small and difficult to read font. As for the performances, Matthew Fox is passable, though unremarkable as Fellers, and then there's Tommy Lee Jones as MacArthur. He's fine, and it's a decently well cast part, but I feel like they still could have done more to give the part more weight and depth. I really don't know much about the Asian cast members, but their performances seemed okay. All in all, this is an unfortunately half-assed historical drama that is well dressed, but fails to say anything all that meaningful.
Chris Weber
Super Reviewer
Emperor Quotes
There are no approved quotes yet for this movie.