Embrace of the Vampire
(2013)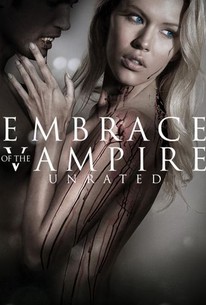 Embrace of the Vampire Photos
Movie Info
EMBRACE OF THE VAMPIRE (2013) stars Sharon Hinnendael as Charlotte, a timid and sheltered teen who has just left an all-girls Catholic school for a new life at a co-ed university. But an ancient evil has followed her here, tormenting her with disturbing nightmares and tempting her with forbidden desires. It is a hunger that can only be satiated by sensual pleasures of the flesh...and a thirst for blood. It's a battle for her soul... and one she's losing. But Charlotte is a fighter. The chaos and torment threatens to unleash her own inner beast, and anyone even close to her may find themselves embracing their own horrific fate. (c) Millenium
Critic Reviews for Embrace of the Vampire
Audience Reviews for Embrace of the Vampire
An interesting, surreal, erotic, somewhat strange vampire film. It sort of reminds me of Jean Rollins films, but transported to a 1990s college setting. It's not a great movie, but I liked watching it anyway.
½
Could've been better. Jordan Ladd just about steals the show from Alyssa Milano, Martin Kemp is just horrible - no way, no how did I buy him as a vampire, and Harrison Pruett has the charisma of a chunk of wood. The 90's fashions are more entertaining than the story here, and though it started off okay, by the end it had totally lost me. I would imagine the only people who would actually like this would be those looking to see Alyssa Milano topless (and there is a lot of that on show here).
Nicki Marie
Super Reviewer
you know those saturday afternoons when a movie comes on and you think, "i have nothing better to do", so you watch it while youre doing things around the house? watching a wall would have been something better to do. one of the worst things ever made.
Embrace of the Vampire Quotes
There are no approved quotes yet for this movie.