El Cantante
(2007)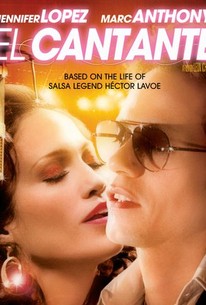 TOMATOMETER
AUDIENCE SCORE
Critic Consensus: El Cantante adheres to the most basic conventions of the musical biopic, rendering it indistinguishable from others of its ilk.
Movie Info
"El Cantante" is the dramatic-biography of Puerto Rican salsa pioneer Hector Lavoe. The film follows Lavoe's passionate relationship with Puchi and his skyrocket to international fame. But, even when he has it all, Lavoe is unable to escape the allure of drugs and his personal pain.
News & Interviews for El Cantante
Critic Reviews for El Cantante
Audience Reviews for El Cantante
Very enjoyable, good performances. Most biopics follow the same formula: star starts off poverty-stricken, small fish in a big pond, meets the right people by chance, becomes uber-successful, then the drugs, loose women come along, then tragedy. El Cantante doesn't stray from this formula either, but Jennifer Lopez and Marc Anthony's performances were good, very enjoyable, I think they really brought life to the real people they were portraying. Plus it didn't hurt that the salsa music was really infectious. I LOVE Marc Anthony's voice, I think its raw and mature and he was a wise choice for the role of Hector Lavoe.
Remi Logan
Super Reviewer
½
Hector Lavoe? Who is he? A salsa legend? A drug addict? An immigrant from Peurto Rico? Well he was all three. Yet, this film isn't just about him, but also his personal and family life, along set with his wife Puchi there to keep him from destroying his own life. Either way, this film grasped me and made me really realize what Love and pain can do to a person, and Lopez and Anthony have a great chemistry onscreen and set of a blazing fire od charisma and sensational entertainment. For me it was a "Three and a Half out of Four" Stars picture. A Slight reccomendation.
Joseph Eastmond
Super Reviewer
[size=3]"El Cantante," starring [b]Jennifer Lopez[/b] and [b]Marc Anthony[/b], is what I expected it to be: an extremely superficial, television-level biopic with great music and entertaining concert footage.[/size] [img]http://cdn.channel.aol.com/pmms/productpagemovies/04/05/2171640[/img] [size=3]It has some extra value as one of the rare American films about Latinos, and for this reason I think an effort should be made to see it. We're certainly not going to get better Latino-American movies if we don't support the precious few that do get made. But the shallowness of the film cannot be denied.[/size] [size=3]Jennifer Lopez is intriguingly positioned as one of the only Latin pop stars well known in white America. She's as famous as Madonna, which is a stunning achievement on her part. She could substantially broaden the horizons of the white community by in a sense teaching them about Latin culture. That strikes me as a very important cultural enterprise that could also have important socio-political implications.[/size] [img]http://www.pastemagazine.com/images/articles/4678_image_1.jpg[/img] [size=3]With this film, as superficial as it is, Lopez and husband Marc Anthony have introduced a broader audience to Puerto Rican legend Hector Lavoie, who teamed up with Willie Colon in New York City in the 1970s to create the rhythmic, percussive style that came to be known as salsa.[/size] [size=3]As an example of how films like this can expand white horizons, I left "El Cantante" seriously wanting to know more about Lavoie, Colon and the rest of the salsa scene.[/size] [img]http://us.movies1.yimg.com/movies.yahoo.com/images/hv/photo/movie_pix/picturehouse/el_cantante/jennifer_lopez/elcantante1.jpg[/img] [size=3]At the start of the movie, Hector is already an adult and already a singer. We meet him in Puerto Rico when he is about to embark on his move to New York. The vast majority of the film takes place in New York, where he meets the woman who will become his wife and lifelong partner. We watch him meet Colon and explode onto the salsa scene. Additionally, we are along for the ride when he discovers heroin, which would be his undoing.[/size] [size=3]There are a couple of moments where it's suggested that the couple might have been bisexual, and that perhaps this is how he caught the HIV virus, which killed him in the 1980s. If he was indeed regularly having sex with men, the film certainly blurs that out of the story. But that's really neither here nor there. The important thing to know about Lavoie is that he was a musical genius. And more Americans should know this.[/size] [size=3]Kudos to Lopez and Anthony for trying to bring his story to a wider audience.[/size]
William Dunmyer
Super Reviewer
El Cantante Quotes
There are no approved quotes yet for this movie.