The Eighth Day (Le Huitième Jour)
(1996)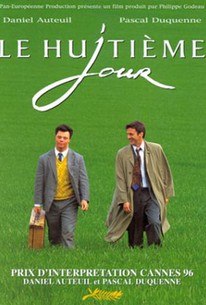 Movie Info
Two men with seemingly nothing in common become unlikely friends in this drama from France. Harry (Daniel Auteuil) is a salesman working for a large but faceless corporation, where he's become a success at the expense of his personal life. His wife Julie (Miou-Miou), frustrated by his lack of concern for his family, has divorced him, and while he still has visitation rights to his children, he manages to forget when it's his weekend with his daughters, and he neglects to pick them up at the train station. Harry is depressed and nearly suicidal; while driving late one rainy night, he accidentally hits a dog who is walking with Georges (Pascal Duquenne), a personable young man with Down's Syndrome. Georges lives in a mental institution, where he's happy and well cared for, but when several of the other patients leave for a weekend visit, Georges decides that he should leave too, and he sets out to visit his mother. Harry can't bring himself to leave Georges behind, so after burying the dog, he offers to drive him to his mother's home, which becomes the start of a complicated odyssey for the two of them, especially after Harry finds out that Georges' mother is no longer alive. Actor Pascal Duquenne actually does have Down's Syndrome; he and co-star Daniel Auteuil shared the Best Actor award at the 1996 Cannes Film Festival.
Critic Reviews for The Eighth Day (Le Huitième Jour)
All Critics (6) | Top Critics (3) | Fresh (4) | Rotten (2)
Watching The Eighth Day, I felt contradictory impulses. On the one hand, I was acutely aware of how conventional the story was. On the other, I was enchanted by the friendship between Harry and Georges.

Try imagining Rain Man without the laughs but with fantasy sequences featuring a Mexican singer in garb out of Chevy Chase's Three Amigos! and a mouse.
January 1, 2000 | Rating: 1.5/4

A buoyant spiritual film that celebrates the mysteries of friendship and precious moments of wonder when life sparkles.
Audience Reviews for The Eighth Day (Le Huitième Jour)
A beautiful and powerful, Van Dormael's film is magic and present wonderful works of Mr. Auteuil and Mr. Duquenne.
Lucas Martins
Super Reviewer
½
Hm, so it seems I'm once again in minority (well, that's not unusual). I found it neither funny enough nor emotional enough. And the major problem: I despise it heavily when logic is defied for the sake of entertainment, while it could have been made equally entertaining while still maintaining (more or less) logic. The movie is way too cheesy for its own good. Harry's attachment to Georges, an invalid stranger, was quite abrupt and seemed forced. Why doesn't he leave him when he gets out of his car? He too wishes to get rid of him at that time. But suddenly he develops a special feeling for him and begins to care for him more than George's own sister. Okay, I understand that he gets soft for him because he also shares the feeling of being abandoned. The relationship could have been better established without sacrificing entertainment. The way the sequences are handled in this movie is quite poor, IMHO. Surely, it reminds one of Rain Man which was far better than this one. I'd rather watch Rain Man umpteenth times than watch this one again. It neither generates enough laughs (I laughed only when Harry was getting beaten by the truck driver) nor enough emotions to moist your eyes.
familiar stranger
Super Reviewer
Very touching Movie. Tissue required to watch this Movie.
The Eighth Day (Le Huitième Jour) Quotes
There are no approved quotes yet for this movie.