Eight Legged Freaks
(2002)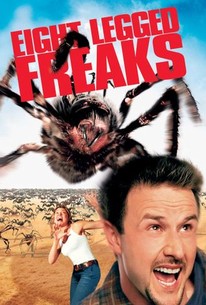 Eight Legged Freaks Photos
Movie Info
What do you get when you cross toxic waste with a bunch of exotic spiders? ... Eaten! ... The residents of a rural mining town discover that an unfortunate chemical spill has caused hundreds of little spiders to mutate overnight to the size of SUVs. And they're hungry! When the alarm is sounded, it's then up to mining engineer Chris McCormack and Sheriff Sam Parker to mobilize an eclectic group of townspeople, including the Sheriff's young son, Mike, her daughter, Ashley and paranoid radio announcer Harlan Griffith and Deputy Pete Willis into battle against the bloodthirsty eight-legged beasts.
News & Interviews for Eight Legged Freaks
Critic Reviews for Eight Legged Freaks
Audience Reviews for Eight Legged Freaks
½
Basically exactly what you would expect from a movie about massive spiders
Spencer Macklin
Super Reviewer
½
This is an underrated monster flick that captures elements of old school 50's sci fi horror with a modern twist. I found this film to be very enjoyable and it was entertaining from start to finish. I found that the film was very well done, with great effects and enough comic relief to make this worthwhile viewing. I have had the opportunity to watch plenty of monster flicks from the 1950's, and this film captures the feel of the era. I find this film to be quite underrated and it doesn't deserve the flack it has received. If you want a silly, good time, then this is a terrific little chiller. The film has flaws, but it's very amusing, and it more than makes up for its imperfections. There are some good performances here, and the script is silly, funny and entertaining. Director Ellory Elkayem delivers a very good monster flick that if you're afraid of spiders, you probably shouldn't watch this. If you're in the mood for a fun little film, then this is the one to watch. I found it to be better than what most people have said about it, and there's a good plot here with enough visual flair to make it a memorable and fun viewing experience. There are plenty of things to enjoy here, and you can't take this one seriously. As far as I'm concerned, this is a fine little gem of a picture that captures the essence of 50's monster cinema and though it's nothing remarkable, it's nonetheless a fun flick for monster fans. There's a fine mix of comedy and thrills, and that's what makes Eight Legged Freaks a necessary viewing. One of the best monster flicks dealing with Spiders since Arachnophobia. Watch this film with an open mind, and you're to have a blast. This is a better film that what it initially gets credit for.
½
Far far too long. The cast of Eight Legged Freaks perform well but the film is neither funny or scary.
Directors Cat
Super Reviewer
Eight Legged Freaks Quotes
There are no approved quotes yet for this movie.