Edison (Edison Force)
(2006)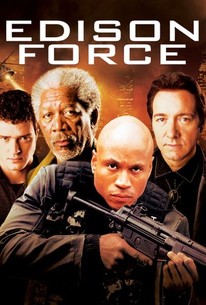 Edison (Edison Force) Photos
Movie Info
Corruption is the law of the land in the every-city of Edison, and the only soul brave enough to peer into the fire and face the wrath of an entire squad of corrupt cops is a fresh-faced journalist in this neo-noir thriller from television director-turned-feature helmer David J. Burke. Joshua Pollack (Justin Timberlake) has discovered a glitch in the system, and as a fledgling journalist he sees it as his duty to expose the corruption. When Pollack misjudges the depth of the authoritative decay and his girlfriend is hospitalized following a brutal attack by the alliance of crooked cops known as F.R.A.T., he soon decides to take action and prove that even those who believe themselves to be above the law still aren't beyond its reach.
News & Interviews for Edison (Edison Force)
Critic Reviews for Edison (Edison Force)
Audience Reviews for Edison (Edison Force)
½
"Edison Force is a good thriller. I was surprised that with it being good and with the cast it has, that it was a film that went straight to DVD. I enjoyed the story and thought all of the acting was solid. I am usually a disbeliever of rappers and singers being good actors, but LL Cool J continues to prove me wrong. I really enjoy him in movies. Plus he's nice eye candy. Justin Timberlake was also good in this. I've see in a few movies now. His acting has definitely gotten better since this movie. The movie is your basic cops gone bad with a news reporter seeking out the truth trying to expose those said cops. Although the story is not original, it is still good. I would see it again."
♥˩ƳИИ ƜѲѲƉƧ♥
Super Reviewer
½
This film had a lot of potential but in my opinion failed to deliver what could have been a great plot. A waste of two great actors; Kevin Spacey and Morgan Freeman, disappointingly watchable
Lady D'arbanville
Super Reviewer
½
A riveting and exhilerating edge of your seat action thriller. Smart, fast-paced and packed with plenty of excitment. A great story of coruption and politics. A truly stunning all-star cast. Kevin Spacey and Morgan Freeman are teriffic. Dylan McDermott is electrifying. LL Cool Jay has never been better. Justine Timberlae is sensational. Tense, stylish and filled with explosive action. A real nail-biter from start to finish.
Edison (Edison Force) Quotes
There are no approved quotes yet for this movie.